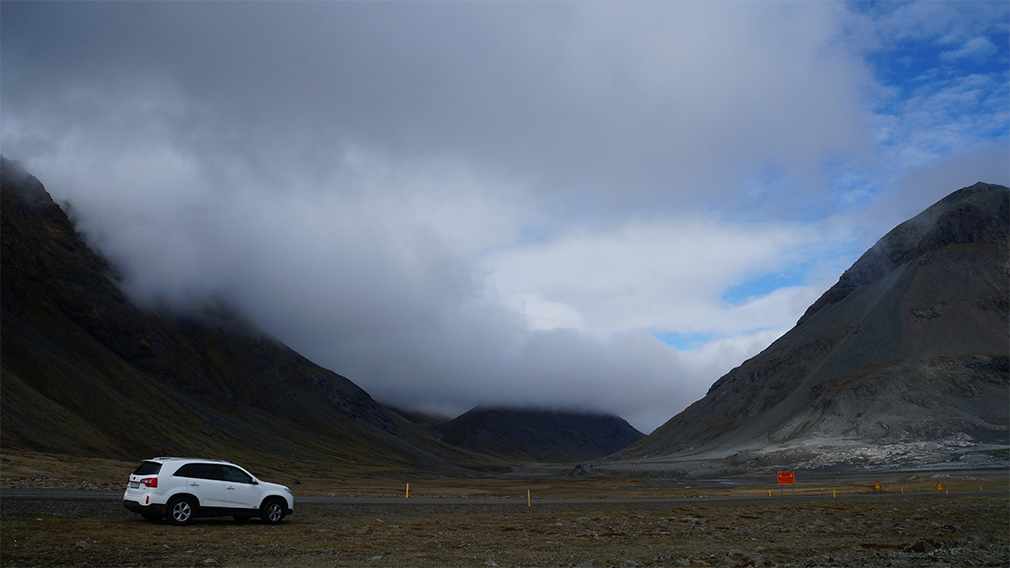 I've spent a great deal of time researching rental car options and companies in Iceland since first falling in love with the beautiful island in 2015. As of this writing, I am currently planning my 3rd road-trip around Iceland in June of 2020, which unfortunately happens to be during the COVID-19 global pandemic.
An Iceland road trip along Route 1 is easily 1,000 miles and will require 25-hours of driving time across exceptionally varied terrain and road qualities. As such, you really should invest the effort into renting the right car from the best rental agency.
And if you're reading this post, then the thought of renting such an important car in a foreign country probably stresses you out–and rightly so. Not only are the cars themselves expensive machines, but the damage that they can do to yourself and others is even greater. And for an Iceland road trip, the rental car can easily account for a quarter or more of the trip's entire cost.
The Most Important Considerations for Renting a Car in Iceland during Covid:
Picking the right make and model of car for your trip (avoid "perfect car X or crappy similar Y");
Selecting a reputable, well-reviewed car rental company with customer-friendly policies;
Ensuring you have the right amount of car insurance coverage from a credit card or insurer, and
Availability of a written "cancel anytime" guarantee due to Covid.
My Experience with Iceland Rental Car Companies / Agencies
I've been somewhat regualrly renting cars since I worked as a management consultant in my early 20s (I'm 35 now), and I'm currently planning my third Iceland road trip. As such, I think these are the most important things to consider when choosing a rental car company in Iceland:
Car Selection
Google Reviews
Customer Service
Cancellation Policy
Price
Location
Car Selection – First, the rental company needs to actually stock the specific car you want (i.e. 2020 Mazda CX-30). Secondly, they need to guarantee that you'll actually get the car you picked out. You don't want "similar." In 2018, I rented a Volkswagen Golf "or similar" and got a Kia Rio. The VW Golf is the undisputed, best compact hatchback in the world, the Kia Rio not so much. I was very unhappy with how "or similar" turned out for me.
Google Reviews – As a small business owner myself, I dislike the effort it takes into ensuring my company has good online reviews, but I understand how powerful they can be. In Iceland there are many small rental companies you have never heard of, but you can have more confidence when there are 100s of reviews that are at least 4.0 or better (out of 5). There are many companies that have this high of a rating and also many companies that have a 3.5 or worse (avoid these).
Customer Service – I like to e-mail the rental agency beforehand and ask them questions to ensure I'm covering these important considerations. A well-managed company should respond quickly (ideally less than 2 business days) and completely (answer all of your questions without any shadiness). Note that Icelanders are very good English speakers. So if the e-mail response sounds shady, it's just because they're shady and not because they have bad English. You should not feel bad asking questions before spending hundreds or even thousands of dollars on the vehicle that is going to take you 1,000 miles and 25-hours around the country.
COVID Cancellation Policy – The best car rental companies don't make you pre-pay and allow you to cancel anytime. While this is the rule in the US (always check for price drops after you book), it's the exception in Iceland given the reliance on and the relative briefness of the high tourist season. But these are pandemic times. You need to ensure that you will get a full refund if you're not able to pick up your car if you test positive for Covid upon landing. Note too that during pandemic times a cancellation policy might not mean much if the company cannot actually afford to refund your pre-payment if they have already spent it. Read the reviews!
Given the COVID pandemic, you should not rent from a company that does not offer a fully flexible cancellation policy! On May 12, 2020, the Icelandic government announced plans to allow foreign tourists back to Iceland beginning June 15, 2020. However, tourists must prove that they are COVID-free probably through a test administered at Keflavik airport on arrival. In the unfortunate event that you should test positive, you will be required to quarantine for 2-weeks in lieu of doing your road trip.
Price – While the makes and models of rentals are actually pretty standard in Iceland, the rates for the exact same cars can vary widely. You need to shop around. But don't immediately go with the lowest price, especially if the company has bad Google reviews. Instead, ask a better-reviewed company if they can match the lower price you found elsewhere.
Location – Keflavik is the only international airport in Iceland and likely where you're going to rent your car. Your rental company might be a short, 5-minute walk across the parking lot or require a shuttle to an off-site location usually about a 5-minute drive away. Neither option is terrible but being able to walk to the rental car office versus waiting on a shuttle is way more convenient.
Summary Review of Good Iceland Rental Car Companies

| Agency | Guaranteed Model | Google Reviews | Responsive to Me | Cancellation Policy | Location |
| --- | --- | --- | --- | --- | --- |
| Blue Car | Yes | 4.2 | Yes | 24-hours / Covid Anytime | Walk or Shuttle |
| MyCar | Yes | 4.7 | Yes | 48-hours / Covid Anytime | Shuttle Only |
| Saga / Thrifty / Dollar | Sometimes | 4.1 | Yes | 7-Days / Covid Anytime | Walk or Shuttle |
| ProCar | No | 3.6 | Yes | Unclear / Covid Anytime | Shuttle Only |
| Reyjavik | No | 4.8 | n/a | 48-hours | Shuttle Only |
| Lotus | Yes | 4.8 | n/a | 48-hours | Walk or Shuttle |
| Geysir | Sometimes | 3.9 | n/a | 48-hours | Walk or Shuttle |
| Route 1 | No | 4.6 | n/a | 48-hours | Shuttle Only |
| Orange | No | 4.4 | n/a | 24-hours | Walk or Shuttle |
| Lava | Yes | 4.5 | n/a | 7-Days | Shuttle Only |
| Lagoon | Yes | 4.5 | n/a | 24-hours | Shuttle Only |
| Agency | Guaranteed Model | Google Reviews | Responsive to Me | Cancellation Policy | Location |
Based off of my experience and criteria described above; n/a means I haven't contacted them usually because they didn't have a car I wanted or their rates were too high. Price is based off of my experience looking in June 2020. I found the cancellation policies in the company's "Rental Terms." When there is a "Covid Anytime," I found this only by asking. Make sure to get this guarantee in writing. You don't want to show up to Iceland, test positive for Covid, have to quarantine for 2-weeks in an expensive hotel, and still be on the hook for a $1,000 rental car you can't use!
My Personal Experiences with these Rental Car Companies
Blue Car Review – My three friends and I rented a 2015 Kia Sorento from them in June of 2015 for about $1200 for 10-days. I chose them in 2015 because I appreciated that a) they had pictures of the actual cars they rented you b) they were responsive to my e-mails and phone calls pre-rental c) their pricing was good/ average for the time and d) their location was just a short walk from the airport terminal. We enjoyed the 4×4 Sorento tremendously and thought the overall experience with Blue was good. I would definitely rent with them again.
ProCar Review – My partner and I rented a 2017-ish Kia Rio from them in June of 2018 for about $400 for 10-days. In spite of the mediocre Google reviews, I admittedly chose them because the price was great at the time for a "Volkswagen Golf or similar." I really wanted a Volkswagen Golf and was disappointed I got the Rio instead. For 2018, the Rio was decent in that it drove fine, had standard bluetooth and a backup camera, but it did not have cruise control, which made some of the driving much more tedious than it needed to be. We also had to wait a long time for the shuttle pick-up at the airport and a very long, 45+ minute wait more once we got to their office. However, I was impressed how responsive and easy the ProCar staff were to work with in getting Chase to reimburse us for the damage we did to their Kia.
MyCar – I'm considering renting from them in June 2020, because they have a fleet of new Toyota Corollas and RAV4s, which come standard with Toyota SafetySense. Their pricing is also very competitive (free extra driver!), they've been responsive to my inquiries, and have good Google reviews. They've also put in writing that they would not charge me if I can't pick the car up due to COVID.
Saga/ Thrifty / Dollar – This is one local company operating under three different brands. I'm considering renting from them in June 2020, because they have a close partnership with Mazda Iceland and are attempting to stock the brand new CX-30. Their pricing is competitive and their office is only a short walk from the airport terminal. However, I'm hesitant because a) the CX-30 hasn't actually arrived yet b) they don't necessarily guarantee the exact car and c) they're part of Hertz, which just declared bankruptcy.
Picking the Right Car for Your Iceland Road Trip
If you're like most people I know who've gone to Iceland, you're probably planning a trip that takes you around the Route 1 "ring road" that follows the perimeter of most of the country. In my previous two trips mostly following this route, the highway has almost always been nicely paved (except when there was construction).
However, your adventure-seeking self will probably often times take you off the main road and onto smaller roads which are quite likely to be gravel rocks. And if you're really adventurous, you may even be hankering to tackle some of the highland (F-Roads) roads in the interior which are neither paved nor guaranteed to have bridges over small streams.
I've done the Ring Road and its "tributaries" in both a 4×4 SUV (Kia Sorento) and in an economy car (Kia Rio). I have never tackled the F-roads on purpose. The main sights are usually not far from the Ring Road, and are therefore easily accessible by a small car in summer. Even though we never got stuck or busted a tire in our economy car Kia Rio, I felt much more confident in the higher-off-the-ground 4X4 SUV anytime the road turned to gravel (and I did see many stranded cars on the Snaefellsnes peninsula with busted tires).
If you are planning to travel on an F-Road, then there is no other option than a 4×4 SUV. I have little experience in this area, but the most popular choice for serious F-roading seems to be the Toyota Land Cruiser (high end) or the Suzuki Jimny (economical). However note that insurance rarely covers your car getting flooded attempting to ford a river, and I personally think you'd be better off going with a guide in their jacked up SUV for this type of activity. Note too that driving off-road is strictly forbidden in Iceland.
In winter, I would never consider anything outside of a 4×4 SUV. Now this opinion is probably guided by the fact that I live in Houston. But I have also spent a great amount of time in northern Michigan during winter, and I know that obviously plenty of people get around well-maintained urban roads in normal cars. But I wouldn't recommend that for an Icelandic winter as a tourist.
Rent a Car That Stops Itself
I grew up in rural Mississippi and therefore have always had to use a car to get around. While I hate driving in Houston traffic, I still love cars, and I really love technology. And I especially appreciate how much technology has improved the livability and safety of modern cars.
I strongly encourage you to rent a car with the latest active safety features. 
Iceland is an amazingly beautiful country. You are going to be distracted while driving–not necessarily from a text on your phone–but from a gorgeous waterfall, cute sheep, or amazing gorge.
Also, other tourists have a dangerous tendency to slow down in the middle of the road when they see something beautiful. And you might just be unfortunate enough to plough right into them if you too are distracted by that something beautiful off to the side.
But did you know all it takes to prevent you from causing $60k+ worth of damage is a little camera and a microchip? Modern cars can rightly stop themselves. And this technology is increasingly available–or standard–on even the most economical of cars.
(Research Tip – Learn more about the cars by going to the Icelandic version of the manufacturer's website in Google Chrome and asking Google to translate the page.)
Also consider these features:
Adaptive Cruise Control – This is the ability of the car to automatically adjust the cruise control speed according to the car ahead. Most cars with automatic braking also include this feature. It's handy in the likely event you get caught in a long train of tourists gawking at everything pretty.
Basic Cruise Control – If you can't get adaptive cruise control, then you'll at least want basic cruise control primarily as a way of not getting a very expensive speeding ticket. Especially in South Iceland, the Ring Road straightens out a bit and it's easy to forget how fast you're going. And on my last trip I saw several cops waiting for the unsuspecting tourist. On my last trip I met a young German who bemoaned his 500 Euro ticket–paid at the time of offense–for going 15 miles over the speed limit between Keflavik Airport and Reyjavik.
Apple Car Play/ Android Auto – Bluetooth was so 2010s. It's convenient to be able to plug in your phone and have instant access to your phone-based maps and music.
(GPS) – I don't think in-car GPS is a must have since you can use your phone's GPS. I've generally experienced very good cell phone reception in Iceland including LTE coverage. But I always download a Google Map ahead of time just in case.
Recommended Cars
These are the Iceland rental cars I would consider renting in 2020 for normal driving (no intense F-roads), primarily because they have the latest active safety and convenience features. This means that they can stop themselves (collision warning with automatic braking) and automatically adjust the cruise control speed (adaptive cruise control).
The Hyundai i30 was all new for 2017 and significantly updated for the 2020 model year. According to Hyundai Iceland, standard safety features include automatic emergency braking, adaptive cruise control, blind spot monitoring, and rear cross traffic monitoring.
The Kia Ceed was all new for the 2019 model year and comes standard with a suite of active safety features including collision warning and auto braking, adaptive cruise control, and driver attention monitoring.
The Mazda3 is all new for the 2019 model year and according to Mazda Iceland comes standard with Mazda i-Activesense and radar cruise control. The interior is beautiful and the handling top notch.
The Toyota Corolla is the smallest and most affordable car with standard "Toyota Safety Sense." Note that it is not the same thing as the Toyota Auris. The Toyota Auris is an older model, which is being replaced by the Corolla in Europe (previously the Auris was akin to the US Corolla).
The Mazda6 received a significant refresh for the 2018 model year, and according to Mazda Iceland, Mazda i-Activesense and radar cruise control are standard on all models. I wouldn't rent anything older than a 2018 model year to ensure getting the latest features. I previously owned a Mazda6 and really enjoyed it for its sporty handling and abundance of technology.
The Mazda CX-30 is brand new for 2020 and is basically a lifted Mazda3. It drives very well, has a beautiful interior, and has the latest technology including Mazda i-Activesense and radar, adaptive cruise control. Note that the CX-3 (three) is not the same as the CX-30 (thirty). The CX-3 is an older, every so slightly smaller model.
The Toyota RAV4 is all-new for the 2019 model year and comes standard with Toyota Safety Sense. Note that you need to rent a 2019 model year or newer to ensure you have the latest generation SUV.
The Subaru Forester is also all-new for the 2019 model year and comes standard with Subaru EyeSight, which is a suite of active safety features including adaptive cruise control and auto-braking. Note that you need to rent a 2019 model year or newer to ensure you'll get EyeSight.
Honorable Mentions
The Mazda CX-5 (2018 and newer) comes with standard collision warning technology. However, in Iceland, only the "Optimum" trim comes with adaptive cruise control (not the Vision).
The Volvo XC40 and XC60 are the Scandinavian luxury car maker's small and midsize SUVs respectively. They come standard with collision avoidance technology, but adaptive cruise control is optional so probably not included on a rental-spec model.
Cars to Avoid
Remember when the early Kias and Hyundais had a reputation as being cheap, crappy cars? The Hyundai i10 and i20 are holdovers from that era; they are the epitome of city-only, econo-boxes with limited power and equipment. The i10 has been thankfully discontinued in Iceland but the i20 is languishing as the all-new 2020 model is delayed due to COVID.
If you're going to come all this way, do yourself a favor and spend $10 more per day to get something infinitely more comfortable and safe like the much more modern Hyundai i30 or Toyota Corolla. Even the tiny Kia Picanto is a better choice with its now standard collision warning and auto-braking.
What About Electric Cars
I've owned an electric car since 2011 when the Chevrolet Volt claimed the title as the first, mass-produced electric car. Since then I've also had two BMW i3s and a BMW 530e plug-in hybrid; I love electric cars and have in fact bet a large portion of my retirement fund on them (Tesla is up 1000%)! Further, I was impressed in 2018 to see what seemed like an extensive network of charging stations along the Route 1 ring road courtesy of On.is.
In general I think that a 4×4 SUV is more practical for a tourist road trip especially because the elevated position and all wheel drive will give you much more confidence when tackling gravel roads. However, I was looking forward to renting a 2020 Kia Niro EV until Blue Car cancelled that offering during the COVID pandemic.
Geysir rental car claims to offer multiple electric models including the current generation Nissan Leaf, BMW i3, Mini Countryman plug-in hybrid, and even the super hot Tesla Model 3 (Iceland's number one selling brand in early 2020).
However, their rates for those cars seem awfully high. And as much as I loved my i3 in urban driving, I would not want to drive it 1000 miles including gravel roads on those bicycle tires. Also, one of the most compelling Tesla features is Autopilot. And I don't trust it on American roads with good lane markings and concrete barriers let alone gravel Icelandic roads with no barriers between you and the 1000-foot drop off to the Atlantic…
Always Document The Rental Car's Condition Before and After
As you're reading the reviews about rental car companies, the biggest complaint among unhappy customers is getting charged for damage that they didn't think they caused. Indeed there can be a lot of variance in how closely different companies inspect cars on return.
And a small rental car company at tiny Keflavik International is a lot likelier to take a close inspection versus, for example, a Hertz or Avis at Atlanta Hartsfield International Airport.
You can save yourself a lot of pain by just documenting the condition of the car both at pick-up and return. You will typically walk around the car with a representative of the rental agency at pick-up.
But I go a step further and take a 4k video while walking around the car with my iPhone. I also take pictures from multiple angles including the front, back, sides, and quarter panels. Modern smartphones take such great pictures that it's easy to later zoom in to catch small dings and scratches you may have missed during a hasty, initial walk around. And it's important to do the same thing when you deliver the car–walk around video and pictures from multiple angles.
Chase Credit Card as Rental Car Insurance Experience
I'm not going to go into detail about all of the different, expensive, and good-to-have insurance packages you could or should purchase along with your rental; you can find plenty of info about that elsewhere.
What I will say is that I personally always decline the rental company's insurance in favor of the included coverage with my Chase Sapphire Reserve credit card. Zero deductible, primary insurance is one of the best perks of some higher-end Chase credit cards.
And let me tell you about that time in 2018 that my partner backed into a pole in a Reyjavik hotel parking lot in our Kia Rio. It was a dark and rainy day, and Stephen was tired from driving without cruise control in the rain for 4-hours from Vik…
Timeline of Events
June 20, 2018 – Stephen backs into a pole in Reykjavik on the last night of our 10-day Iceland road trip
June 21 – We return the car to ProCar and authorize them to charge our card 230,000 ISK for estimated bumper repairs (~$2k USD at the time)
June 25 – ProCar e-mails actual bill from body shop for 132,528 ISK and refunds our card for the difference
July 5 – ProCar finally sends all the paperwork Chase needs to process the claim
July 6 – I submit the claim for reimbursement with Chase through their website "E-Claimsline" powered by Allianz
July 18 – August 14 – Back and forth with Chase submitting more information
August 29 – Chase finally reimburses us for the $~1200 we paid in actual damages
So it took about two months from date of collision to date of reimbursement. I can't remember exactly why it took so long; I think Chase took issue with the format of some of the paperwork from the rental agency. I'm sure I was very frustrated at the time but ultimately happy Chase finally paid out.
Would I have rather paid an extra $40 a day for comprehensive coverage from the rental agency? I personally wouldn't, but everyone has to evaluate their own tolerance for risk and inconvenience. Nevertheless, I recommend checking first with your credit card company about what type of rental car insurance–if any–that they offer. Chase credit cards are among the best with this particular benefit.