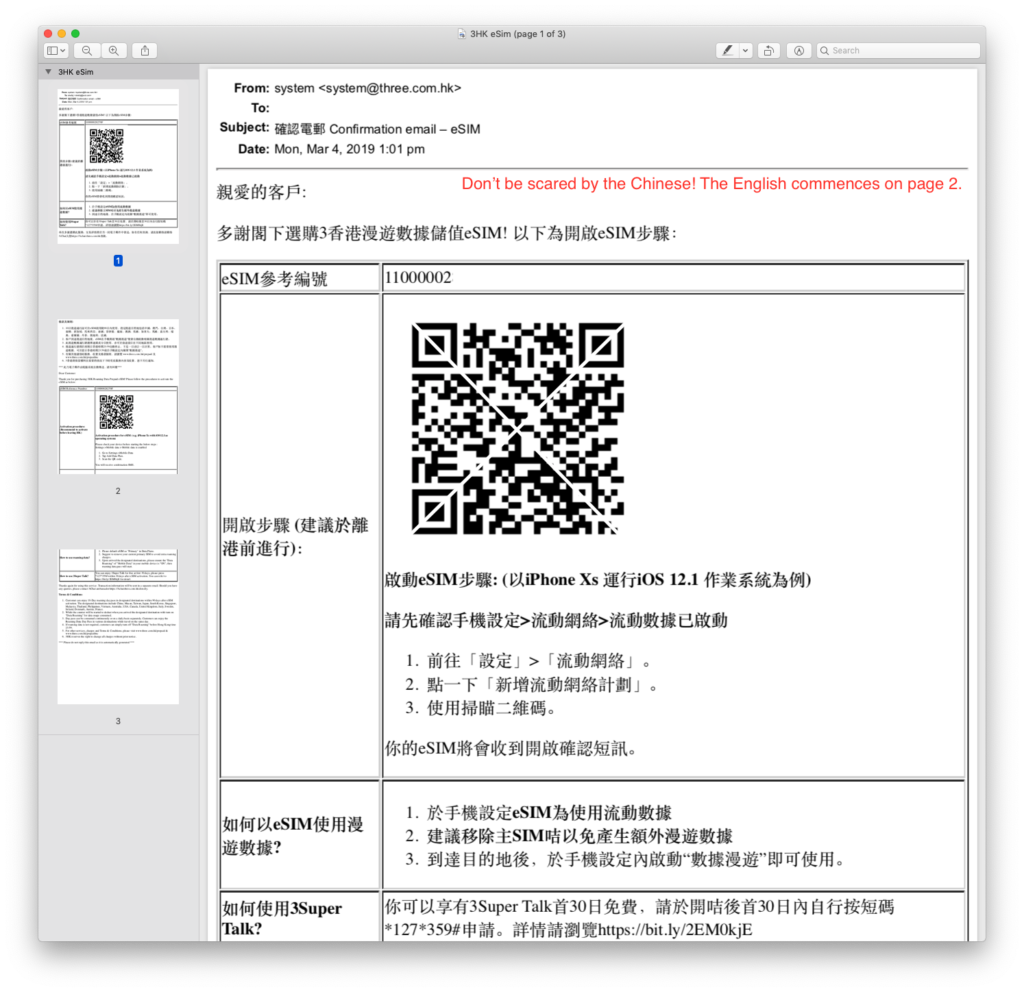 I highly recommend the 3HK eSim as a low-cost, fully functioning data option for overseas roaming. The 3HK eSim worked great in Japan with my Verizon iPhone Xs. For $17 USD (HK $138), you get 10-days of unlimited data in Japan plus all of these other places:
China/ Macau/ Taiwan/ Japan/ Korea/ Singapore/Malaysia/ Philippines/ Thailand/ Myanmar/Vietnam/ India/ Indonesia/Australia/US/ Canada/ Guam/ France/ UK/ Italy/ Ireland/ Sweden/ Denmark/ Austria/ Mexico/ Sri Lanka/ Israel/ and Kuwait.
That's right, $17 United States dollars buys you mostly unlimited high-speed data for 10 full days or just $1.70 per day. I say mostly, because I read somewhere you'll get throttled at 500 megabytes a day depending on the country, and I received warning messages via text to that extent.
But you really cannot beat $17. On my 10-day trip to Tokyo, Hakone, Kyoto, and Osaka, the service proved to be flawless and consistently locked onto a good network.
What you don't get is anything beyond data; you cannot make phone calls or send text messages. But you can send Apple Messages, or use WhatsApp, WeChat, Skype, or–even the Verizon Messages Plus app.
(I plan to review the Verizon Messages Plus app in a separate post. But it's essentially a mobile app that gives you "virtual" access to your Verizon phone number including making VOIP calls and sending text messages without paying roaming fees as long as you're on wi-fi or a non-Verizon data provider. It worked decently except entering keypad prompts and at receiving the automated SMS for two-factor authorizations).
The process to set up the 3HK eSIM was pretty easy:
Click on the link from the e-mail and pay your $138 HKD
They'll send you an e-mail with a QR code
Scan the QR code from your iPhone to set up the eSIM as normal
Now the process might be a little intimidating because 3HK is a Hong Kong provider, and because you'll probably see some Chinese characters along the way. But there is an English website, and the e-mail will get sent to you in English as well.
Also, the charges to your credit card will be in Hong Kong Dollars, so you should use a credit card that does not incur any international transaction fees. I used my Chase Sapphire Reserve card.
Note that to use any SIM card, including an eSIM, your phone must be unlocked. Typically your phone is only unlocked if you paid full price for it, have finished paying it off and went through the process to unlock it, or are on Verizon like me. Verizon is the only US carrier, in a settlement with the FCC, that ships its phones mostly unlocked.
Your tolerance for seamless ease of phone use abroad versus unwillingness to pay outrageous roaming fees will vary. But if you're reading this post, I recommend that you put your $17 to good to use with the 3HK eSIM versus paying the $100 to Verizon as was my easiest alternative during this trip to Japan.