Yes, the Radeon 5700xt is plug-and-play with MacOS Catalina and delivers performance on par with an Nvidia 1080ti or 2070. That's probably all you care about if you're reading this post. Having received some bad information from a well-meaning salesperson at the Houston MicroCenter, I thought I'd put my experience out there for your Google/Bing satisfaction.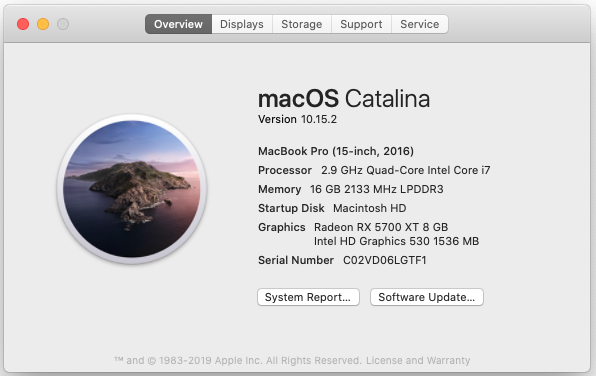 The quick backstory is that I have a 2016 MacBook Pro 15″ laptop:
2.9 GHz Quad-Core Intel Core i7 6920HQ
16 GB 2133 MHz LPDDR3 RAM
Radeon Pro 460 w/ 4GB VRAM + Integrated 530 Intel HD Graphics
These specs are still pretty high end 3-years later and perfectly sufficient for my daily revenue-generating activities, but no match for a $1200 Windows gaming rig with a medium-level $400 graphics card.
PowerColor Gaming Station with Mac Review
Your Thunderbolt 3-equipped Mac running macOS High Sierra 10.13.4 or later can access additional graphics performance by connecting to an external graphics processor (also known as an eGPU). (Note, you must be running Catalina 10.15 or newer in order to use the Radeon 5700).
So in order to get desktop-level graphics performance on your Mac laptop or Mac Mini, you just need to acquire two things:
External Graphics Processor Unit (EGPU)
Graphics card, which is inserted into that EGPU
I bought the PowerColor Gaming Station at Microcenter because of its availability, specs, and price: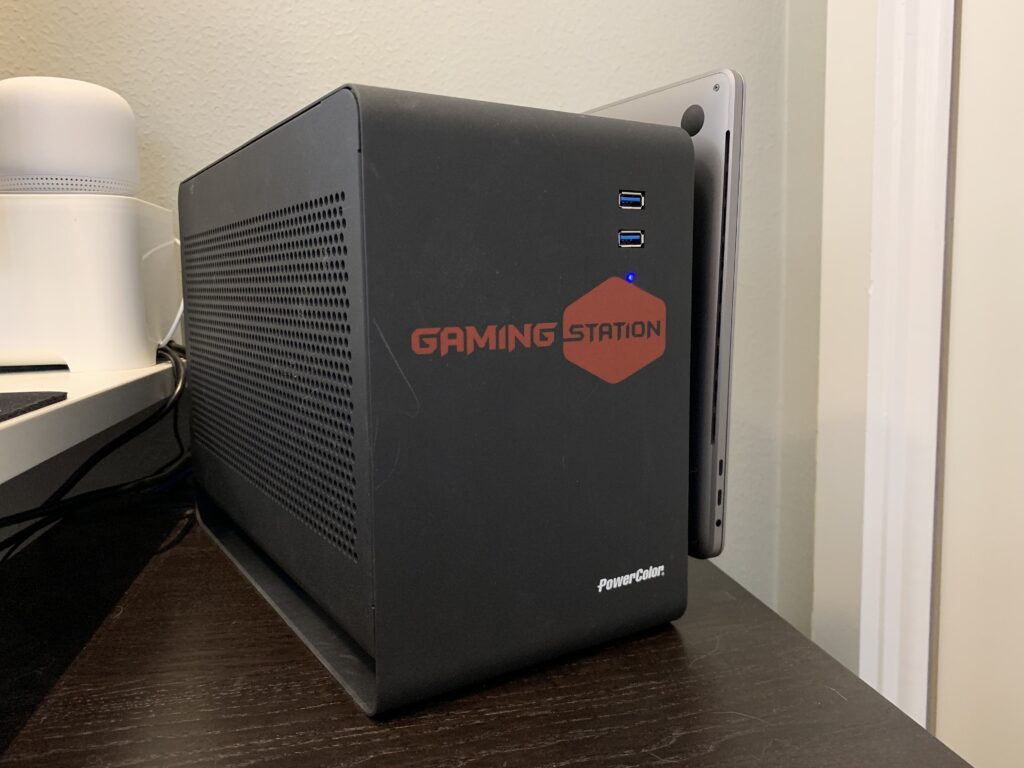 550W power supply with 87-watt charging
5 USB-A ports
Gigabit Ethernet
$185 open-box, grab-and-go at MicroCenter
I had initially ordered a Razer Core X Chroma from Amazon for $399, because the Razer is widely praised as the best EGPU for Mac users, it looks good, and it had all of those aforementioned ports, which would allow me to dump my USB hub.
But Amazon Prime was suffering from unusually slow delivery estimates (4 calendar days), I had a lot of time on my hands over the winter holiday, and I really didn't want to pay $400 for what's basically a box with a power supply and LED lighting that I neither wanted nor could even control.
A 10-minute drive later, Microcenter not only had the Gaming Station in stock, but they also had an open-box unit for an even bigger discount, and I'm a sucker for discounts. I inspected the goods in the store and decided it looked fine. FWIW, they also sell a $20 2-year warranty with same-day exchanges if you're squeamish about open-box stuff.
The PowerColor ended up being basically a Razer Core X Chroma for half the cost (minus the 700w power supply and uncontrollable LED lighting).
PowerColor Gaming Station Pros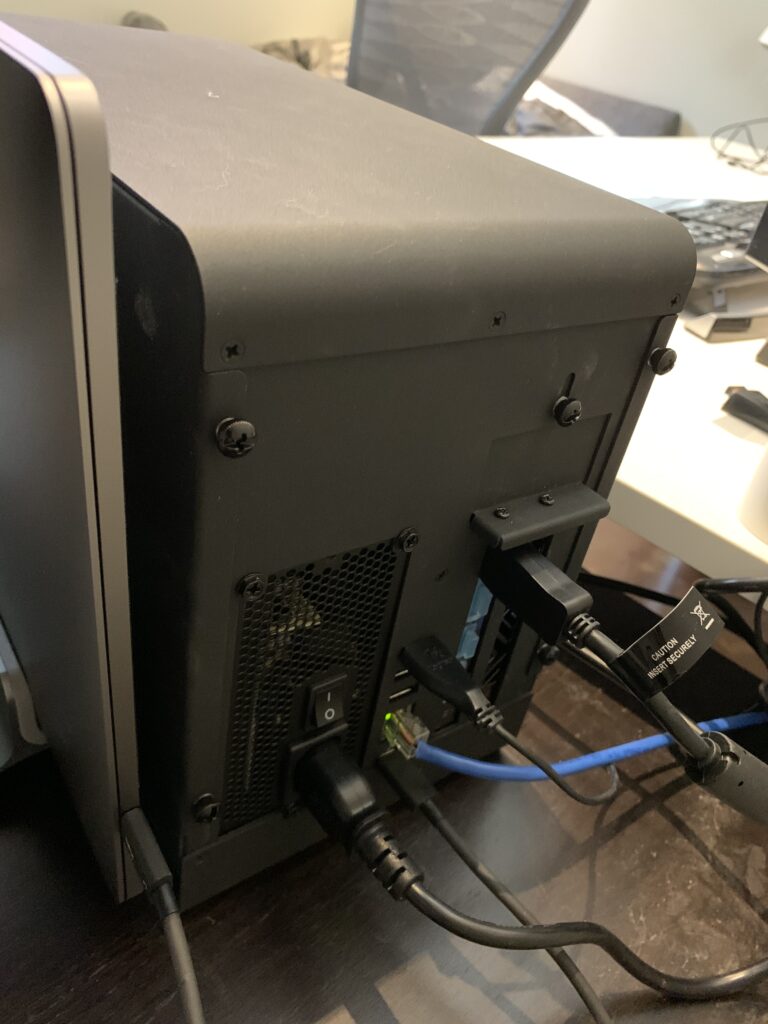 It's relatively cheap at less than $250
The USB ports and Gigabit Ethernet are really nice to have
87-watt charging via USB-C
It just works
Powercolor Gaming Station Cons
310mm max graphics card length (aka 2-fans and NOT 3-fans)
Get your screwdrivers out
Ethernet didn't work out of the box (see below)
Dorky branding
The PowerColor Gaming Station just works and all of those ports allowed me to shelve my dongle/hub (except when I need an SD card reader for my camera).
But the box was relatively difficult to open up and install the card in. The metal (some sort of steel?) was really hard to pull apart initially. And I had to fiddle with at least 3-screws to get everything open and the card seated properly.
While this frustration only required about 30-minutes, I did need my specialized screwdriver set (tiny Philips-head screws); FWIW, the Razer gets by with 0 screws.
Radeon 5700 XT with Cities Skylines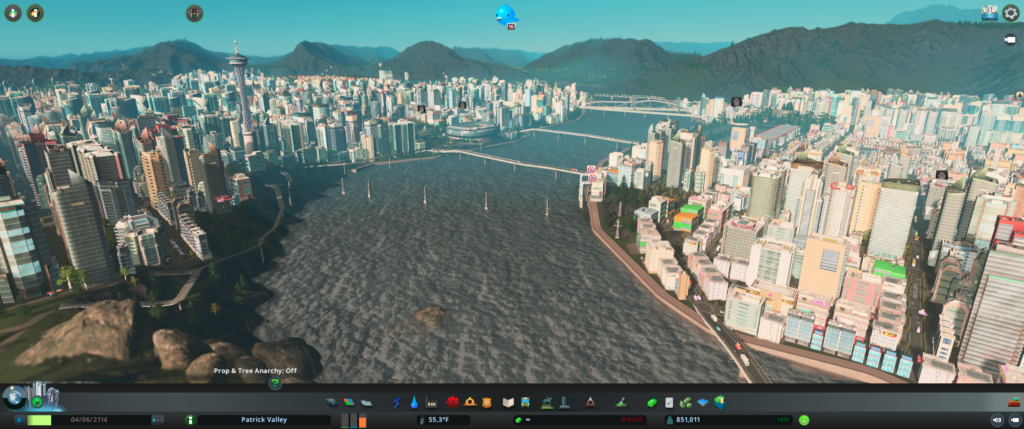 For my graphics card, I bought the Sapphire Radeon 5700 XT Pulse Overclocked from Microcenter. This AMD card was basically the most powerful, reasonably priced card available at the time with Mac compatibility. Also I couldn't get the 3-fan "Nitro" variant, because it was too long for the PowerColor.
Remember, Mac native support for the 5000-series AMD cards only started with Mac OS Catalina 10.15, so if you haven't updated yet, you will have to in order to get plug-and-play with the latest cards like this one.
I started going down this EGPU route in earnest when I realized that CitiesSkylines has the capability to run smoothly on a better machine. Specifically, my 850k-population city ran silky smooth on my partner's HP Omen X (i7-6700k, Nvidia 1080i, 32gb RAM, 32″ QHD monitor).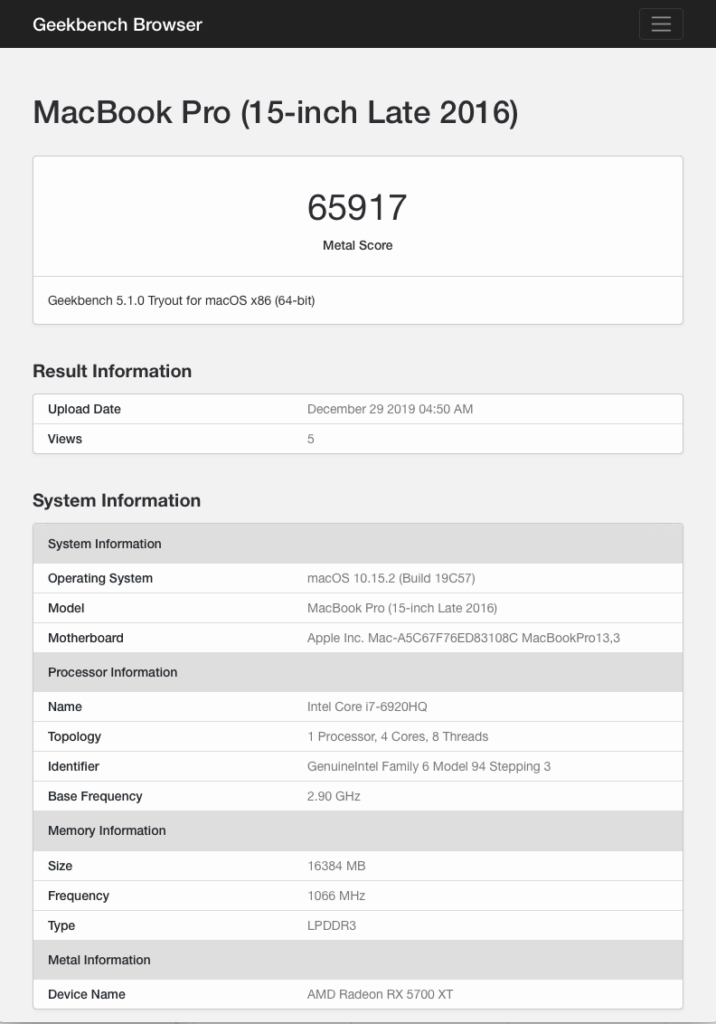 Cities Skylines City Specs
With that city and the new EGPU, I'm averaging 35-45 frames per second (FPS) with max graphics settings at 3440×1440 full screen resolution (34″ QHD).
And I can barely tell that the Mac, EGPU, or 5700XT is running. In fact, the noise and heat are probably less than when I used the Mac's discreet graphics card.
I installed GeekBench 5 and was pleasantly surprised to get a Metal Score of 69,157, which is apparently on par with an NVIDIA GTX 1080ti!
Ethernet Driver for Mac EGPU
The only part about the PowerColor EGPU that was not plug-and-play was the gigabit ethernet port. It simply did not work even after multiple restarts.
I e-mailed PowerColor and they responded within 24-hours saying to ask Apple for a driver–not helpful.
Anyhow, a little internet sleuthing led me to the support website of ASIX, which is a Taiwanese company that apparently makes a lot of these Ethernet adapters. On their website, I downloaded the AX88179/AX8817A driver.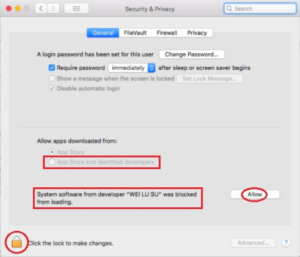 Read the on-screen prompts during installation! MacOS will ask you to go into Security & Privacy (page 14 of the installation guide) and click on some buttons to allow the driver to work. If you do not click on those buttons, installation will fail, and you'll get stuck in installation limbo. The only way I got out of installation limbo was to manually power cycle my laptop with the power button.
After I properly installed the driver, I'm getting about 935 Mbps download on my ATT Fiber connection, which is way better than the 135 Mbps I was getting on my Nest Mesh router.
Constant Crashing in April 2020 (Fixed)
Beginning in early April 2020, my Mac started to crash regularly, like every day or multiple times a day (it was previously stable). The mouse cursor would become very laggy and input response would be similarly laggy and slow. Unplugging the EGPU and opening up the MacBook Pro could sometimes prevent a full-on crash, but usually the machine had to be physically powered on and off or it would automatically restart itself.
This crashing seemed to coincide with a security update to Mac OS to 10.15.4 and an Adobe Photoshop update–using Photoshop almost always resulted within a crash within 5-minutes. However, the Mac also full-on crashed while playing Cities Skylines (albeit after about 5-hours of play; make sure you have auto-save turned on)!
A solution seems to be to connect the Mac directly to the monitor versus connecting the monitor to the EGPU. After I switched to this setup, the crashing has ceased. However, the Mac now runs much hotter and louder when being taxed in Cities Skylines as if it were doing some heavy lifting (although the game still runs smoothly on my 34″ curved QHD monitor with half a million sims).
Update June 15, 2020 – The update to Mac OS Catalina 10.15.5 seems to fix the crashing issue. I have reconnected my monitor using a DVI-HDMI cable direct to the video card (instead of the Mac) in the Gaming Station and haven't crashed in nearly a week! I've also turned off automatic OS updates for the future.
Update February 27, 2021 – A little over one year after setting up the EGPU, I've dismantled the setup and switched to a Mac Mini M1 for my revenue-generating activities and a Lenovo Legion 7i for my portable gaming needs. Apple just never really seemed to fully support the EGPU. Every new OS update seemed to break something. And iMovie never worked at all with it. The death of my 2016 MacBook Pro battery gave me an excuse to try the new M1 Macs, and I realized it was just easier to play my games on a Windows machine.