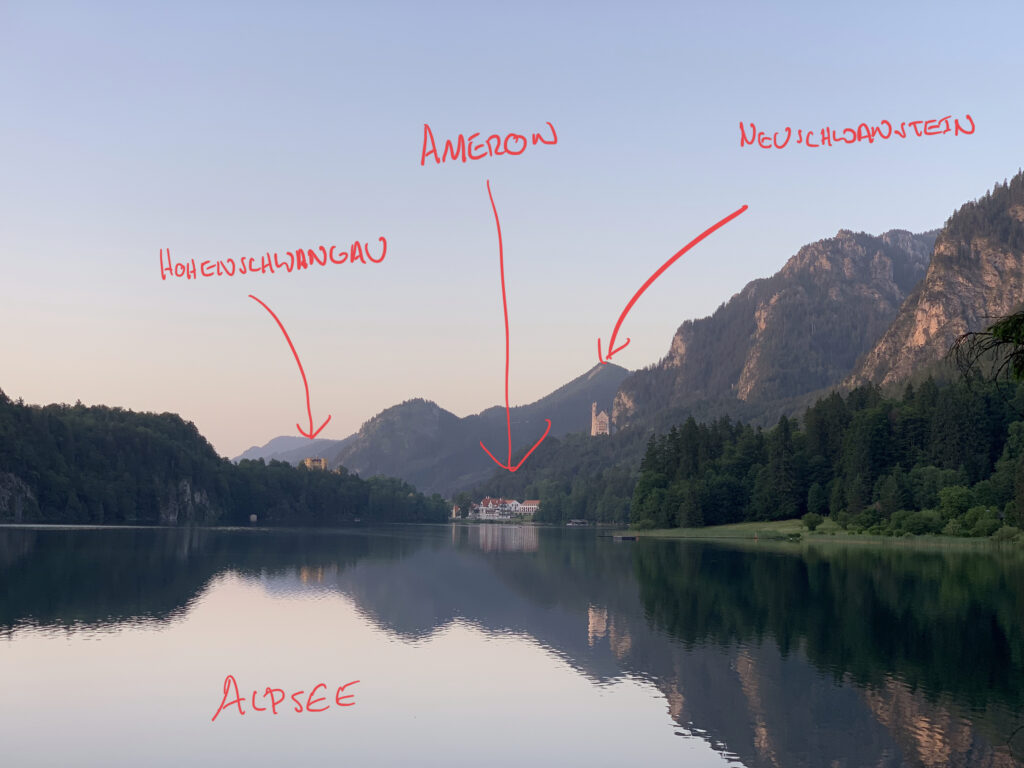 The Ameron Neuschwanstein Alpsee Resort and Spa is an excellent base for a one-night visit to Schloss Neuschwanstein or Schloss Hohenschwangau as well as multi-night stays to enjoy the Allgäu region more fully. It will become even better in the coming months as some of the new hotel kinks are worked out by management.
I spent 5-nights in a Seehaus suite at the Ameron in June of 2019, and small nitpicks aside, generally came away impressed. It most reminded me of an upscale, modern hotel in Iceland like the Fosshotel Eastfjords or the Laxá Hótel Myvatn.
In the Bavarian region of southern Germany famous for ornate cuckoo clocks, lederhosen, and hand-painted beer steins, the Ameron stands out for its Scandinavian minimalism.
Enviable Location Yet Easy to Access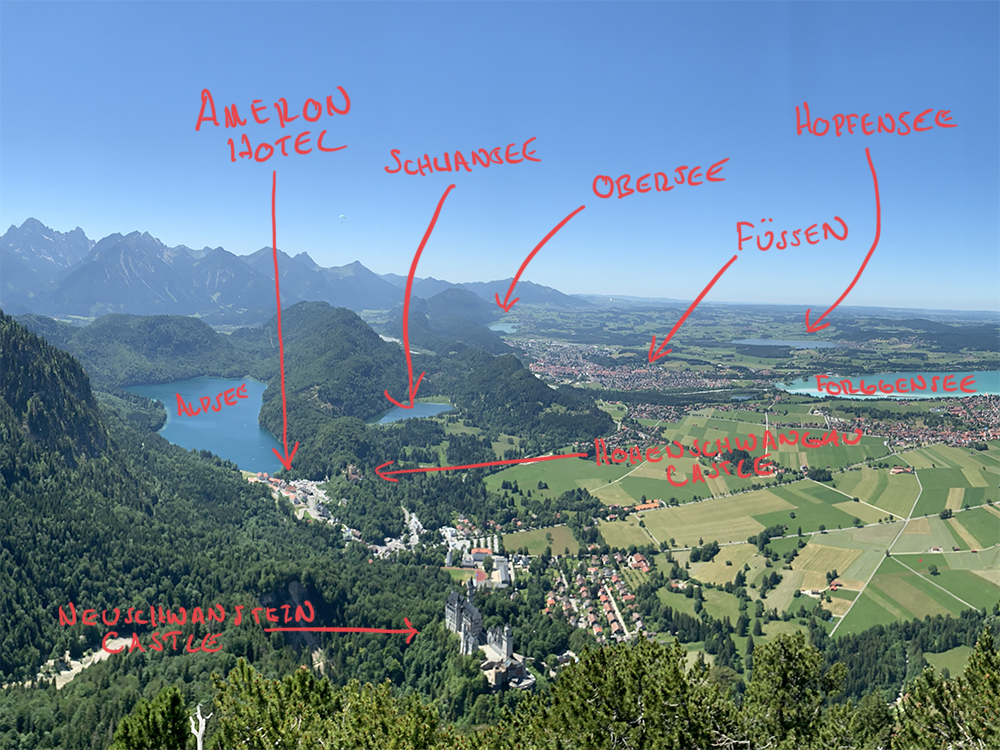 Only opened in March of 2019, the Ameron is a complex of 3, newly constructed buildings and 3 renovated, historic hotels—the Alpenrose, Jägerhaus, and Lisl. The buildings are mostly connected by an underground walkway.
Located in the village of Hohenschwangau, the Ameron is one block away from the Neuschwanstein ticket center and therefore just a 30-minute walk to the castle itself. This close proximity to the hottest tourist destination in southern Germany makes it easy to beat the crowds to pick up your pre-reserved tickets in the morning as the hordes of day trippers won't generally arrive from Munich before 10am.
The resort is similarly close to the beautiful Alpsee and likewise enjoys great views of the surrounding mountains and makes for an excellent base for hiking, biking, and swimming.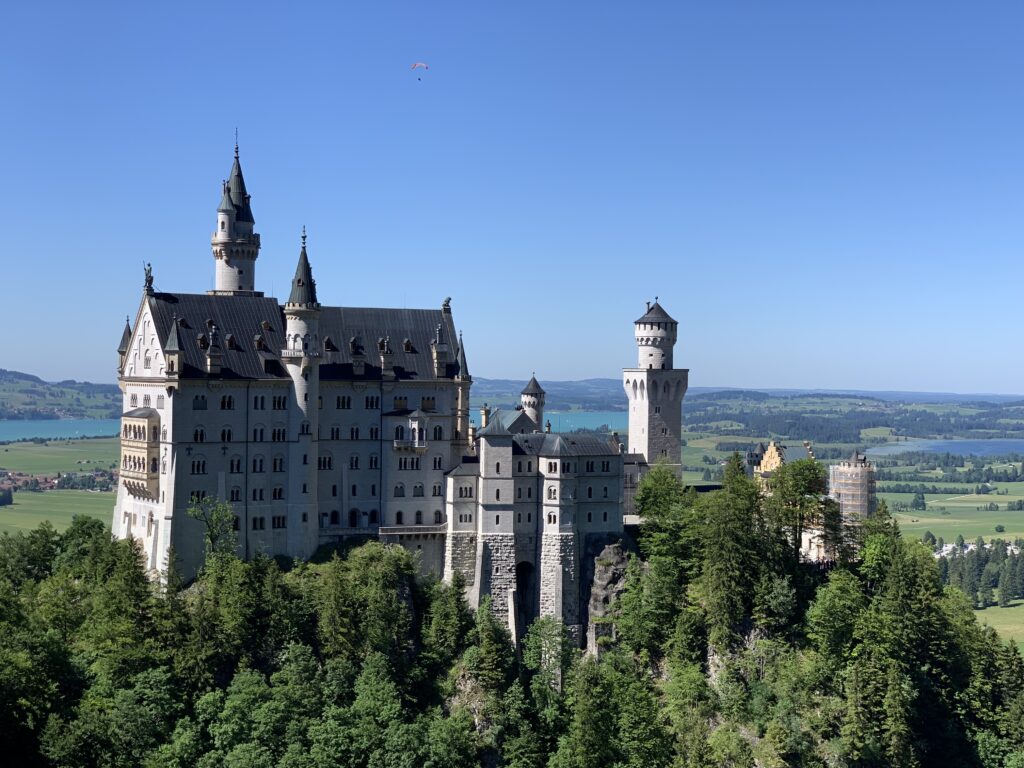 However, if there are any downsides to the location it would be a) the proximity to Neuschwanstein and b) it's relative seclusion away from the city of Füssen. If you're trying to get away from crowds, you'll want to make sure to leave the hotel before 10am and return after 6pm to avoid the tour busses.
Public transport in the region is easy to use and free thanks to Google Maps and the Schwangau card that the hotel gives you at check-in. However, the last bus from Füssen back to the hotel leaves just after 7pm, which makes it difficult to have a leisurely dinner and drinks in town if you don't want to hike 2.5 miles back to the hotel or search for one of the few cabs in this exceedingly charming but small town.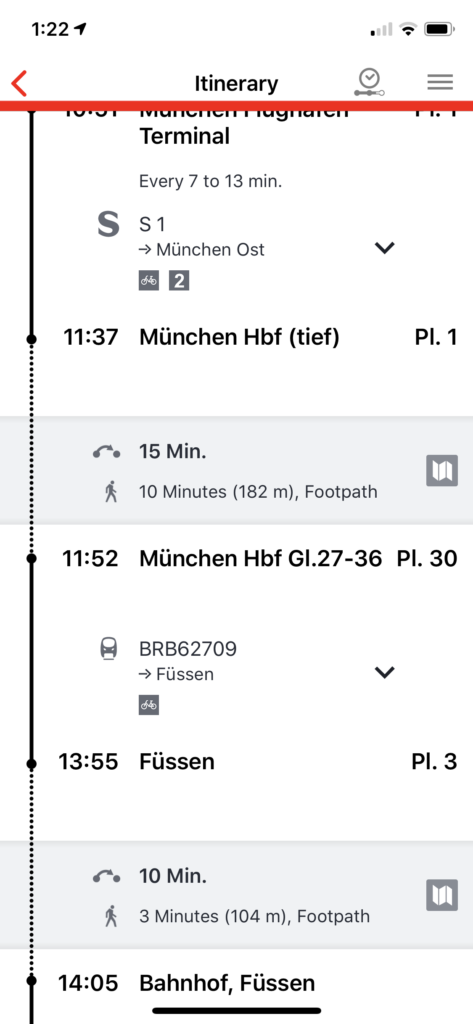 From Munich, the Ameron is relatively easy and affordable to get to with public transportation. My partner and I purchased a Bavaria Regional Ticket from the Deutsche Bahn for 32 Euros in the iOS mobile app, which afforded unlimited travel for both of us for the whole day in the state of Bavaria on most trains, subways, and busses.
From Munich airport, we took the subway to Munich's main train station, from which we took the train to Füssen train station. At Füssen train station, we took a bus to Hohenschwangau, which was a 5-minute walk to the hotel. All of this travel required a little under 3-hours and was laid out step-by-step by Google Maps and the Deutsche Bahn mobile app.
Contemporary and Comfortable Rooms
The Alpenrose building stands out for its enviable, sweeping views over the Alpsee, and its rates are accordingly the highest. However, the big summer disadvantage of rooms in the Alpenrose and Jägerhaus is that none of these historic rooms enjoy air conditioning.
Given that Germany was experiencing 100 degree plus weather, I chose a two-room suite in the Seehaus, which like the adjoining Galeria, is new from the ground up and enjoys most modern conveniences including the electrically cooled air.
However, that record-setting heat broke our room's air conditioner on day two, and as a result, we got to experience two different rooms of the same type.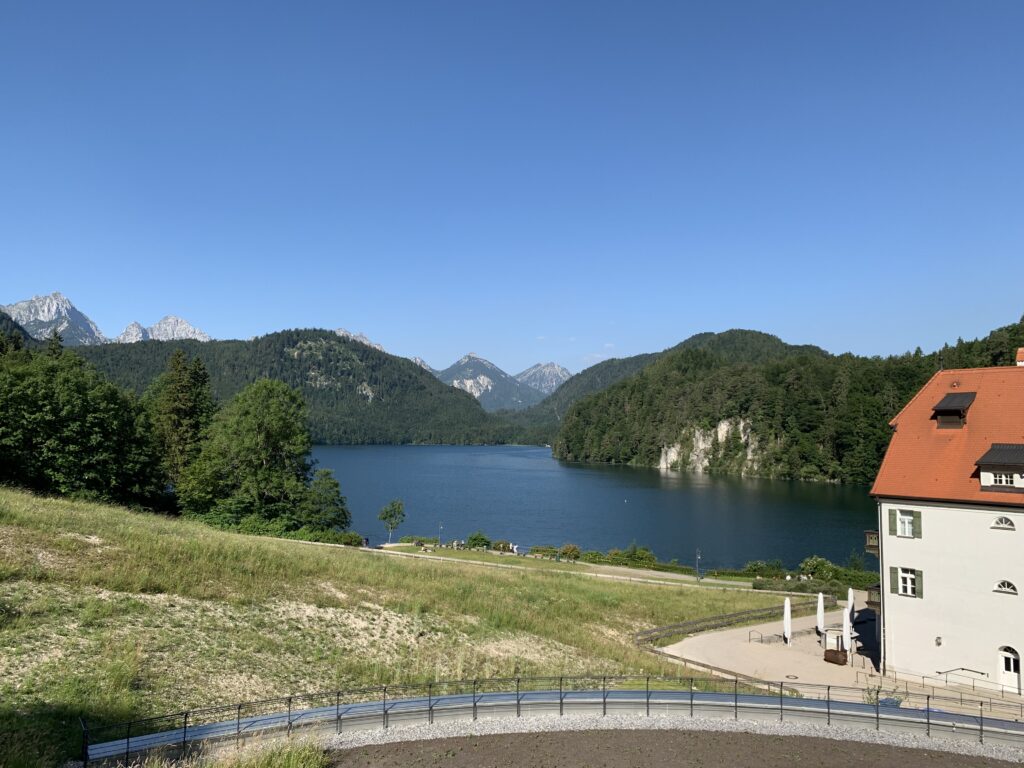 The views from both suites were good, but most people would probably prefer the view over the Alpsee (311) to that of Hohenschwangau Castle (307). Both rooms had Juliet-balconies.
At approximately 450-square feet, the room was spacious but not huge. The layout was somewhat traditional in that it was three boxes—living room, bathroom, bedroom. I thought that the hotel's pictures were pretty representative of what we actually experienced. However, unlike in the photos, the room lacked decorative touches like flowers, books, or anything else to make it look slightly less barren.
The small living room contained a couch, coffee table, and TV atop a tv-stand. The tv-stand was odd in that it looked like it had four, big drawers, but I couldn't find any way to open the drawers in both of the rooms we stayed in. Either that tv-stand is a colossal waste of space or just really poorly assembled!
The bedroom contained a king-size bed, a chair, and sitting area with free minibar. At home, I sleep on a firm Tempurpedic, memory-foam mattress, and I had no trouble sleeping on this bed. However, the pillows were traditionally German (a big square thing), that I have never grown accustomed to. Fortunately there were several pillows on the bed to choose from. The sheets were fine but not over the top luxurious. Like most German hotels, each person got his own duvet.
The free minibar was a really nice touch as it included two bottles of water (still and sparkling), two beers (basic essentials in Germany), a couple of sodas, two juices, and a single Toblerone candy bar. The minibar was replenished daily at no charge.
Bathroom with Great Water Pressure
The bathroom contained a combo shower/tub, Duravit sink, and wall-mounted European-style toilet. The shower was European bar-style with crazy strong water pressure. While I'm normally a fan of greater water pressure, the downside here is that there's only a half-glass wall separating the shower from the rest of the bathroom, meaning that water often went everywhere. The sink faucet had the same strong water pressure.
The soap and shampoo by the White Company were in normal-sized pump bottles, which are great for reducing waste; however, the pumps on these bottles didn't work that great. I had never heard of the White Company until the British Airways Club World business flight on the way over to Germany, but the products were fine. However, hair conditioner was conspicuously absent.
Substantial, Included Breakfast Buffet
The included breakfast buffet was good. It's served in the Lisl restaurant and enjoys views to Neuschwanstein castle. All the usual European standards were accounted for like cold cuts including salmon and salami plus various cheeses, and lots of bread choices including fluffy croissants and seeded rolls.
There was also a sizable hot selection presented in Staub cookery like scrambled eggs, bacon, sausage, baked beans (for Brits), and pancakes. To round things off, there was even a cooked-to-order egg station manned by a jovial chef who would artfully prepare fried eggs and omelets; he took orders in English for the linguistically challenged.
The buffet was a casual affair; you set yourself and got everything yourself including coffee, tea, water, and juice. The automatic coffee machine made everything from espresso to Americano to latte macchiatos. The loose-leaf tea selection was large and flavorful.
So what could make this pretty good 4* breakfast buffet into a great 5* affair? Air conditioning for one, like the hallways, the breakfast room seemed to lack central air but certainly did have lots of windows with direct sunlight. Also, while there was an egg station, there were no other plated options that could be ordered like waffles or French toast. There were no desserts like cakes or fine pastries. And there was no champagne!
Artful, Delicious Restaurant Food
I had the opportunity to try the food at both the Ludwig Bar and the Lisl Restaurant, and I was impressed by both establishments. At the Bar, I had a reasonably priced burger, which was very juicy and flavorful.
At Lisl Restaurant, I was ecstatic to try their white asparagus menu. When I spent 8 months living in northern Germany in 2006, spargel was my favorite food by far. While I can buy white asparagus in Houston, it's typically a Peruvian variety that is no bigger than green asparagus. By comparison, German white asparagus can easily be 3x to 4x as thick. The Lisl restaurants prepared my favorite German dish expertly. I'll let the pictures speak for themselves.
On the recommendation of Yelp, I made the unfortunate choice one night to try restaurant Josy's at the Hotel Müller across the street one night. I think the Yelpers liked the biergarten for its atmosphere and efficient service, but the food left everything to be desired as it all tasted and looked reheated from a commercial food services company. So don't do it! Stick with the Ameron restaurants if you need to eat nearby.
Comprehensive Spa Complex
In my mind, no luxury hotel is complete without a decent pool and spa complex, and the Ameron almost succeeds here. It has a beautiful, indoor infinity pool with button-operated waterfall; however, I found the water to be a little too cold for relaxing.
Unfortunately, there is no hot tub. There were however foot baths, saunas, and "adventure showers." Generally, I was impressed by the pool and spa complex but thought that a hot tub or thermal pool was an odd omission in an otherwise comprehensive offering. Unlike many luxury European hotels, there was no additional charge to use the spa.
After only using the pool and spa area just one time, I preferred to make the short, 5-minute walk to the Alpsee instead. Fed by glacial melt, the Alpsee water is a beautiful turquoise and seemed a popular swimming destination for locals and tourists alike.
In the afternoon sun, the shallower areas were warm enough. Also, the amount of people at the lake diminished significantly after the tour busses returned to Munich in the late afternoon.
Affordable (for now) Rates
I ultimately got an excellent rate on the Ameron suite through Cheaptickets.com, pre-paying just $754.95 for five nights in the Seehaus suite or just $151 a night. To get this rate, I rebooked a couple of times with Expedia and Cheaptickets (both Expedia websites).
My original booking was for $1286 4-months prior to departure but the rate kept falling the closer my check-in date got. I finally made a commitment about 1-month out when I saw a combination of a significantly lower rate and a 16% coupon from Cheaptickets.com.
I was obviously prepared to pay $250 a night for the Ameron, and I think it's worth it especially given that older, more established upscale hotels in the area can go for upwards of $300 per night. However, I think the low rates were probably a result of a rather messy opening, which left the hotel stained with a lot of bad reviews.
In the future, I would expect the Ameron to be able to fill its inventory with rates in the mid $200s for a standard room; I also expect rates at the older upscale hotels in the area to fall given the sudden increase in regional inventory.
For what it's worth, I contacted the hotel directly to see if they would match the OTA's rate, but they declined (which is odd). I paid for the rate with my Chase Sapphire Reserve card, which gives 3 points back per dollar on hotel stays, which I value at a minimum of 5% back.
Before I decided on the Ameron, I was looking at other contemporary, upscale hotels with pools and spas including Das Rübezahl and Das König Ludwig. As befitting their more established nature, both of these hotels commanded higher rates yet seemed smaller and less modern.
Courteous Staff
I'm pretty low maintenance when it comes to requests from the staff; however, I was happy with my limited interactions. I rarely saw more than one person manning the front desk, and this person was always courteous and able to answer any questions.
The wait staff at the restaurants were efficient and could be jovial. However, I did notice that some of the staff who felt less confident in their English abilities were understandably less outgoing with non-German-speaking guests.
Unlike some of the early reviews on Trip Advisor, I had no issues with the housekeeping staff. My room was always serviced by the time I returned in the afternoon, including the replenishment of the complimentary minibar.
I never saw anyone manning the spa counter, which could have simply been the result of low demand when I was there.
New-Hotel Problems
The wi-fi was not very good in either of our two rooms. In room 307, it worked okay in the living room but not at all in the bedroom. In room 311, it was the other way around. I never did a formal speed test, but it felt faster at odd hours when fewer guests would have been taxing it.
I have a few complaints about the bedroom. There were no USB charging ports in the bedroom or anywhere in the suite. For a new build, I find this omission odd as copious USB ports are now seemingly de rigueurat large chain hotels like Hilton and Hyatt.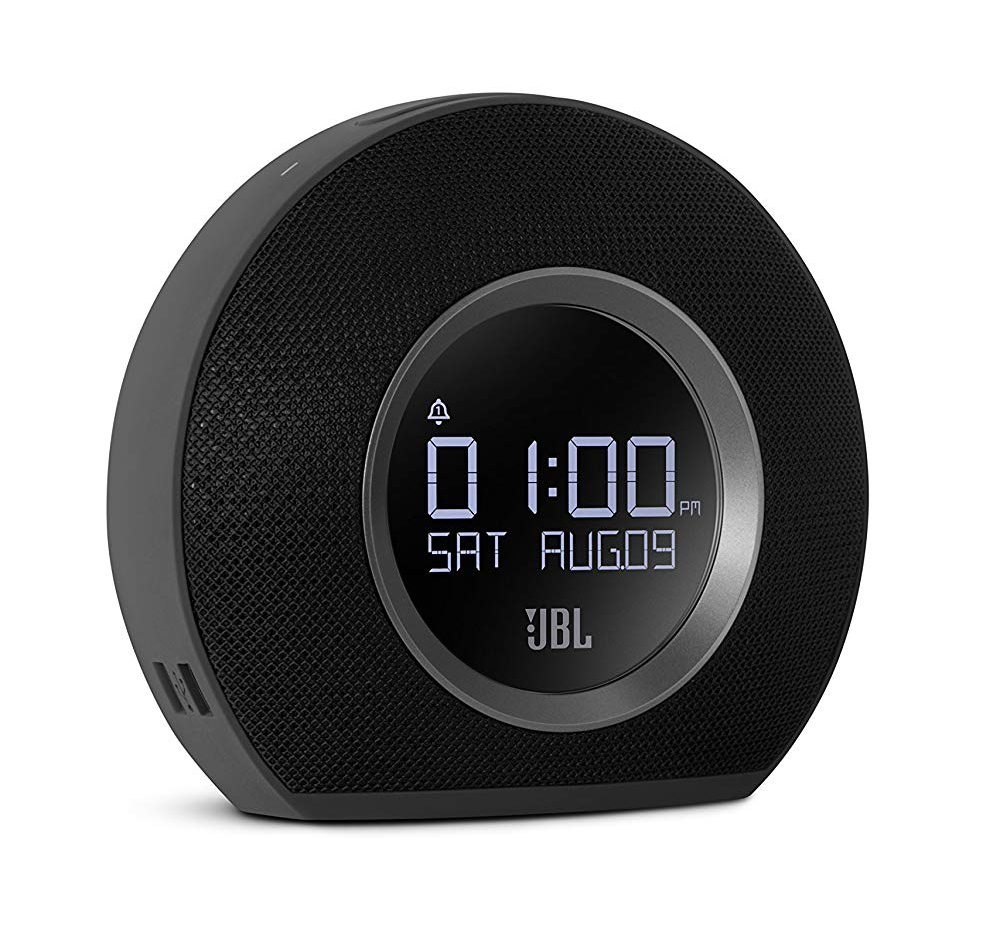 Integrated USB ports significantly reduce the amount of bulk from also packing chargers in addition to cables. However, the hotel did provide free European adapters (my adapters were in my checked baggage, which British Airways lost).
There was also no bedside clock radio. I really couldn't care less about the clock except that its appearance would have been an easy way to implement USB charging ports. However, the absent radio was annoying in that it was another missed opportunity to include a Bluetooth speaker for my phone.
My biggest complaint about the bedroom has to do with the "Master Switch" next to the bed. This master switch turned off ALL electricity to the room—including the air conditioner and the power outlets; it was akin to removing the key card from the slot at the door. In most hotels, this switch kills the lights, but for it to take down the AC and outlets seems a bit draconian.
Responsive Management
I contacted the management at Ameron with regards to the issues I outlined above and quickly got a response from them within 24-hours.
They are aware of the wi-fi issues and are working with their vendor to improve it.
They plan to start offering in-house bike and hiking equipment rentals beginning in mid-July. I hope they offer at least some of this equipment complimentary as is the case with neighboring, upscale properties. In the meantime, I can recommend you to Declan or Klaus at Royal Gifts and Treasures at the Füssen train station for electric bikes.
They think there may be a wiring issue with the Master Switch cutting off all power to the room, because they say it should only affect the lights.
They are working to fix the TV stands so that the drawers can be accessible.
They are considering adding a Bluetooth speaker to the rooms; I hope these speakers have USB charging ports!
Highly Recommended
Overall, I think the 4* rating of the Ameron Neuschwanstein is spot on. It's a nice property with good amenities but it doesn't yet have the personal service and little touches that would distinguish it as a truly exceptional property. However, I think it's probably the best upscale option in the area around Füssen. And with the response from the Management, I think this property will only get better (although more expensive) with age.
Pros
Contemporary, minimalist design
Good food at breakfast buffet and restaurants
Comprehensive spa with indoor pool and saunas
Proximity to Schloss Neuschwanstein and the Alpsee
Planned in-house bike and outdoor equipment rental
Currently very affordable rates
Cons
Spotty wi-fi
Miscellaneous new-hotel problems
Area can be inundated with hordes of visitors to Neuschwanstein