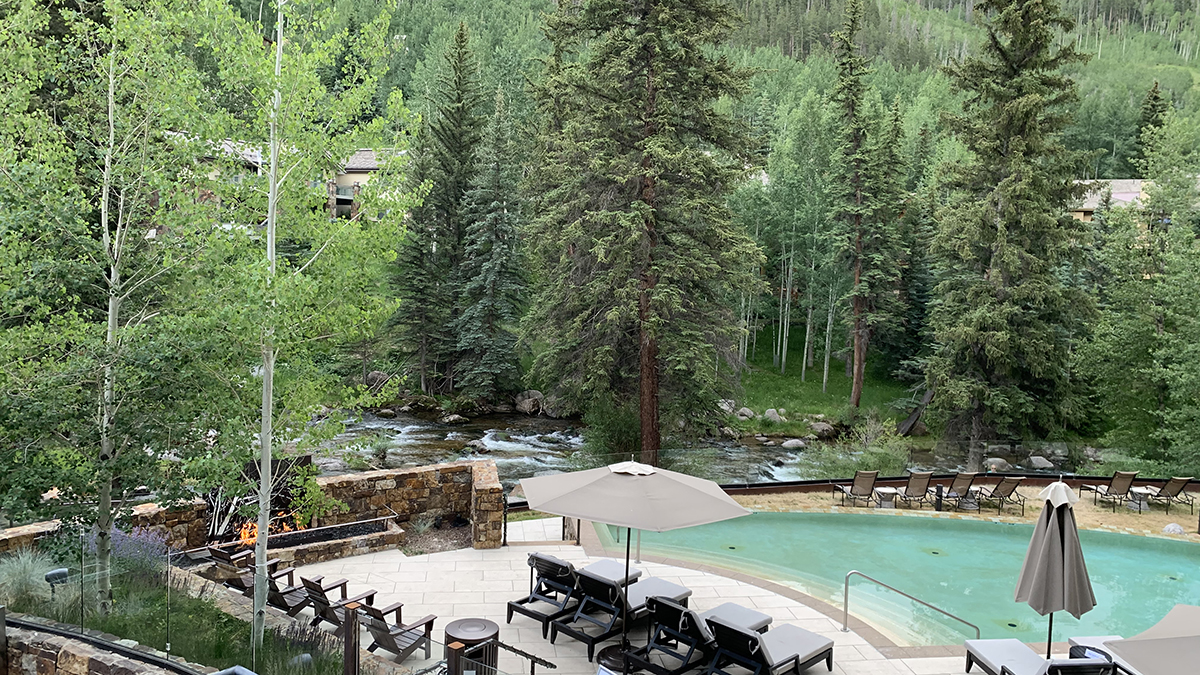 Within the context of the global pandemic, I really enjoyed the Grand Hyatt Vail and plan to stay there again; after this trip to the Colorado Rockies I felt totally renewed, and hopefully you will too!
I stayed at the Grand Hyatt for six nights for the Fourth of July holiday during the "summer of Covid" 2020. As two adults in our mid-30s with a Pembroke Welsh Corgi in tow, it made an excellent base to enjoy the Colorado Rockies and decompress from what was an exceptionally stressful first half of the year.
I booked an excellent "3rd night free" promotion with Virtuoso which also included a room upgrade, free breakfast, and a $100 room credit. At the time, the World of Hyatt loyalty program was also offering triple points back after the second stay.
Location on Gore Creek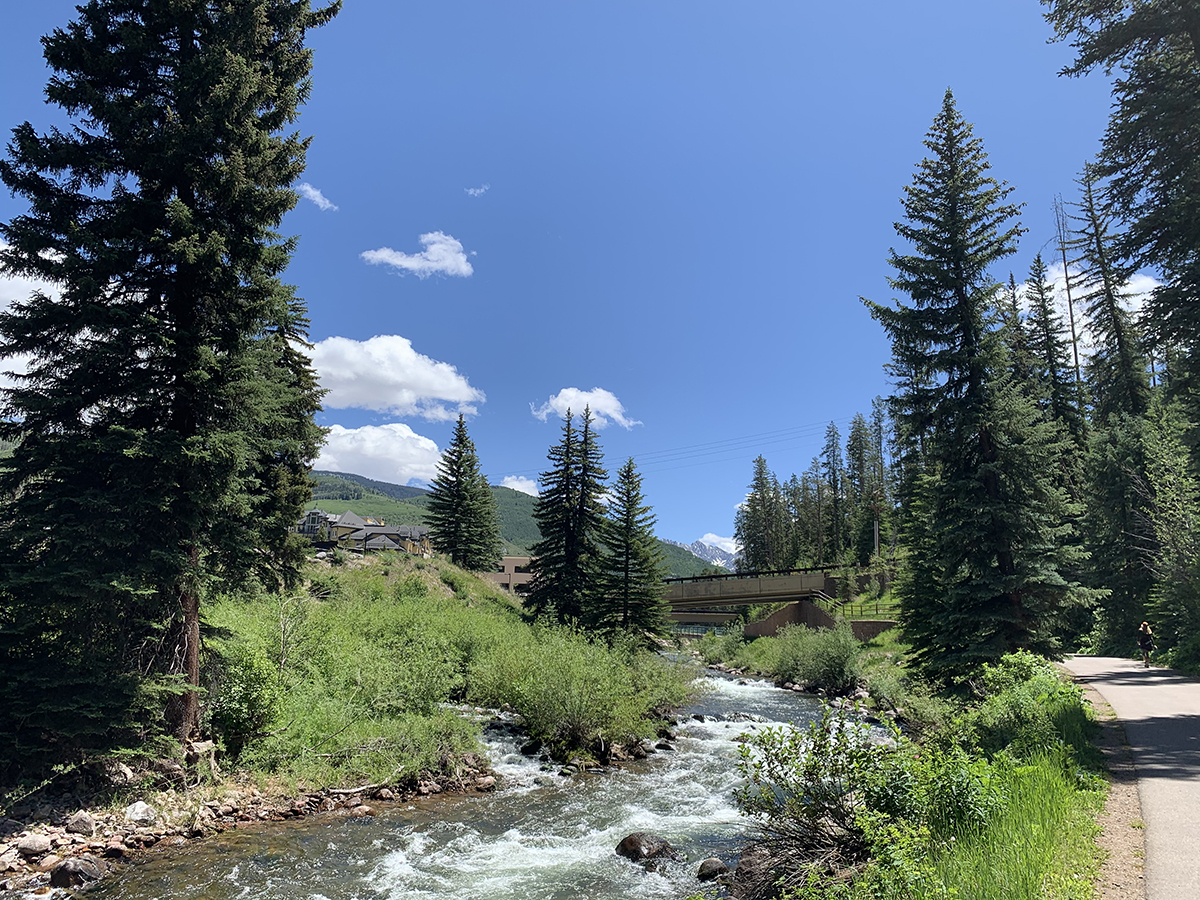 The Grand Hyatt Vail is located along Gore Creek about 1 mile west of Vail's Lionshead Village. This relatively secluded location will be a big decision point for many people.
I personally loved the location. Gore Creek is just an amazing water feature on which to place a luxury hotel. It is unadulterated enough to be enjoyed for its natural beauty yet developed just to the extent that it's a pleasure for all types of people to enjoy it. At the time of my visit in July, it had a strong current which made for a great sound of rushing water like being at the beach or next to a big waterfall.
There is a wide, paved path that runs the length of the creek between the Grand Hyatt and Vail, and this area basically forms a large park, which is dotted with various amenities like park benches, bridges, and sandy banks. Just behind Gore Creek is Vail Mountain; as such the Grand Hyatt Vail is really the epitome of excellent Feng Shui!
However, many people will not like the location due to its distance from the action at Vail where other popular hotels like the Ritz Carlton Club and Marriott Mountain Resort are located. It's about a 20 minute walk one-way along Gore Creek to get to Lionshead Village and another 15 minutes or so to the center of Vail Mountain Village.
A complimentary shuttle bus does connect the Grand Hyatt to the more built up areas of Vail, but it's an added hassle for sure. If you don't make the trek into Vail, there's really nothing else directly around the Grand Hyatt for food or nightlife.
Deluxe Mountain View Room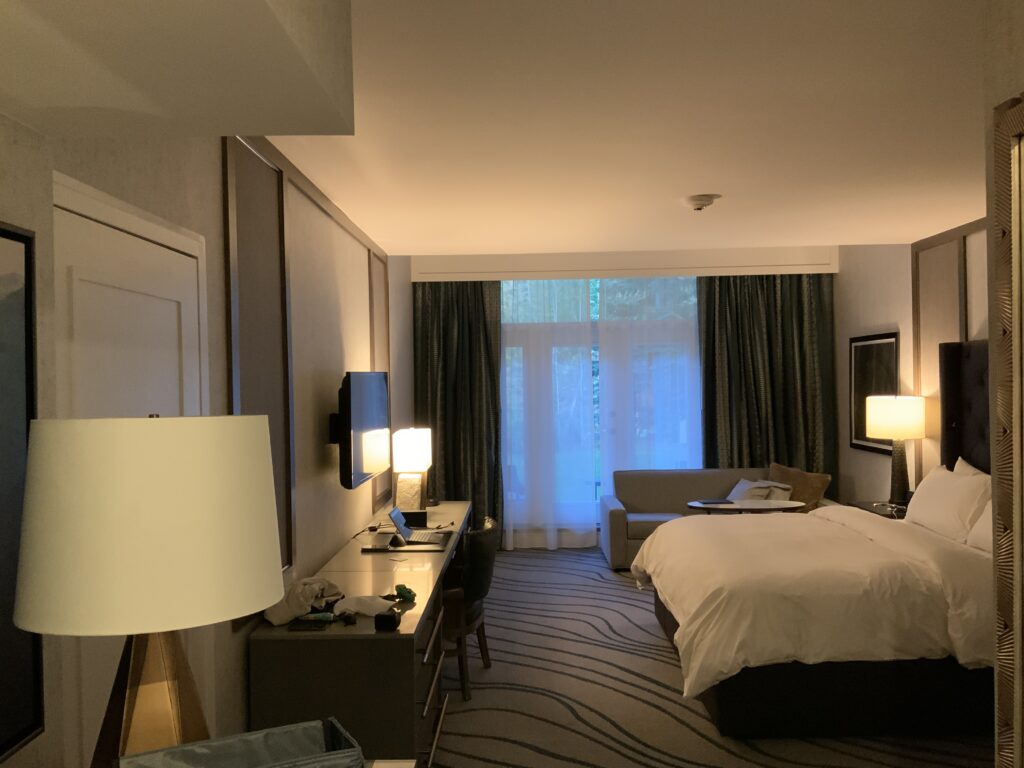 I booked a basic "King Bed" room but was upgraded to what looked like a "Deluxe Mountain View" room on the ground floor. I say it looked like a "Mountain View" room because of its large size and the fact that it faced Vail Mountain, but its ground floor location meant that really all you were looking at was a courtyard directly in front of Gore Creek.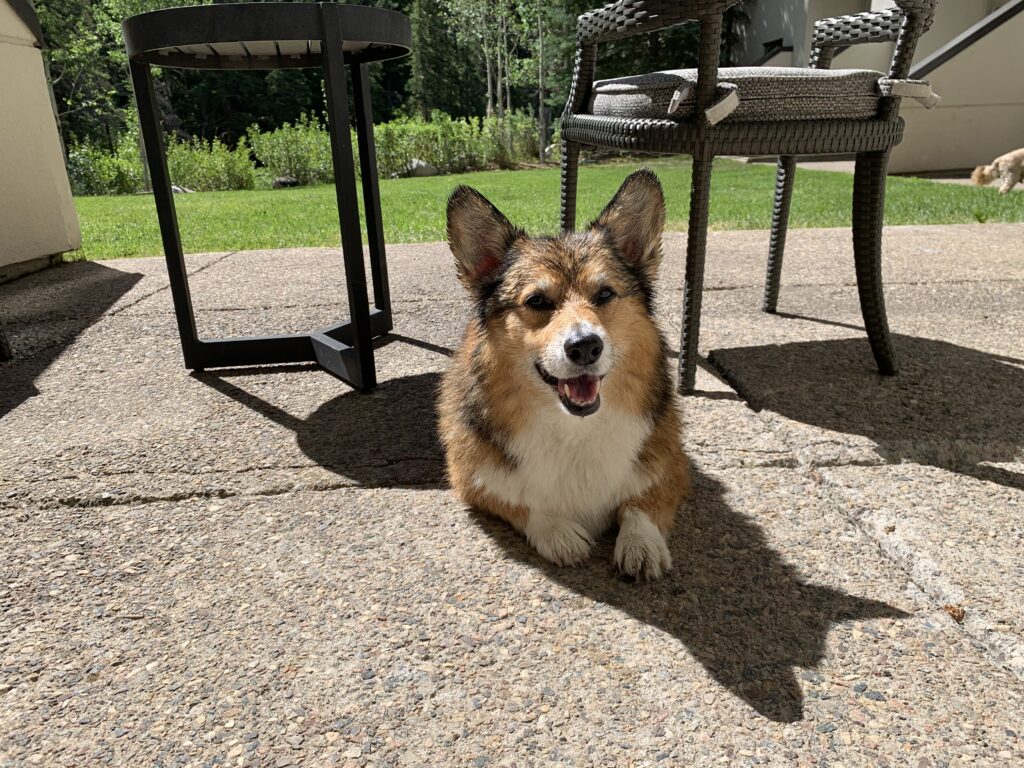 Patrick the Corgi Pup really loved this room because of its furnished patio adjacent to a large, grassy courtyard. Patrick had exceptionally easy access to an area to relieve himself and could easily walk down to Gore Creek without having to go through the hotel.
The patio also received lots of afternoon sun for Patrick to enjoy. The only thing that could make the room even better for dogs would be if it had a gate that closed.
The room itself was fairly large and beautifully furnished. For many hotels, its large size and semi-separate seating area with full-size couch and coffee table would be more akin to a junior suite.
The design was very "RH Modern" in its use of thick carpeting, warm woods with metal accents, tufted leather, and marble surfaces. It was generally very quiet except for the noise that leaked through the door to the connecting room–ask for a room without a connection if you're worried about the noise.
The bathroom was a good size and featured a dual vanity with marble surface. There was no deep soaking tub; however, the walk-in shower was suitably luxurious with its marble surfaces, frameless glass door, dual shower heads, and long, slot-style drain.
The slot drain is worth calling out because I have the same style at home, and it does a great job of catching hair and fur–we did shower Patrick the Corgi Pup one day after he went swimming in Gore Creek.
Good Food When Available
The Grand Hyatt's food service was both good and bad. Due to Covid, the main restaurant was closed and the only food offered outside of the weekend was from "The Market" which was basically just an upscale 7/11.
In all honesty, I really did not like The Market. The last thing I want to do at a luxury hotel is to stand in a crowded line and eat convenience store food. But I will give the hotel a pass in this regard due to the difficulties of them having to navigate Covid restrictions and implement what were at the time very nascent best practices. During non-Covid times, I could see The Market being convenient for a quick bite or for kids.
The food situation vastly improved with the arrival of Fourth of July Weekend. The Gessner Bar opened (not restaurant but Bar) as did a food truck in the front courtyard. I was actually fairly impressed with the quality of food at Gessner Bar and enjoyed both of the meals I had there. The food truck was pretty good and a big improvement over The Market.
The lack of an always accessible full service restaurant was my biggest disappointment about he Grand Hyatt; however, I'm hopeful that situation won't repeat itself even with the pandemic seemingly going on forever. The big lesson learned is that during the pandemic I now always e-mail ahead to ask about what food options are offered.
Pool, Bikes, and Parking
Due to the covid restrictions, I never used the creekside pool but it looked absolutely lovely. I did make use of one of the outdoor hot tubs closer to my room, which was also creekside and very pleasant.
I liked that the hotel is host to a Venture Sports location, which meant that I was able to rent an electric bike directly within the hotel, which made pick-up and drop-off a cinch.
I did not make use of the hotel's valet parking, because the town of Vail was offering free overnight parking in its many garages in town. However, I don't expect the city to offer that again once the pandemic eases up.
In Summary
Pros
Beautiful Gore Creek location
Luxurious, modern rooms
Good food from Gessner Bar
Cons
Secluded Gore Creek location
Disappointing food from The Market