The short take is that the Sunday brunch buffet at the St. Regis Kuala Lumpur is simply exceptional, and you should make a reservation right now! From Beijing to Berlin to Rome to Tokyo, I don't think I've enjoyed a better buffet.
I love 5-star hotel champagne brunches; I look for them in every city I travel to. Some of my favorite brunches in the world have been at the Westin Chaoyang Beijing, Ritz Carlton Berlin, Ritz Carlton Toronto, and of course my hometown Four Seasons Houston.
My friend and I got there a little early before the restaurant was open. However, the superb staff graciously offered us a beverage while we waited in the lobby outside the dining room.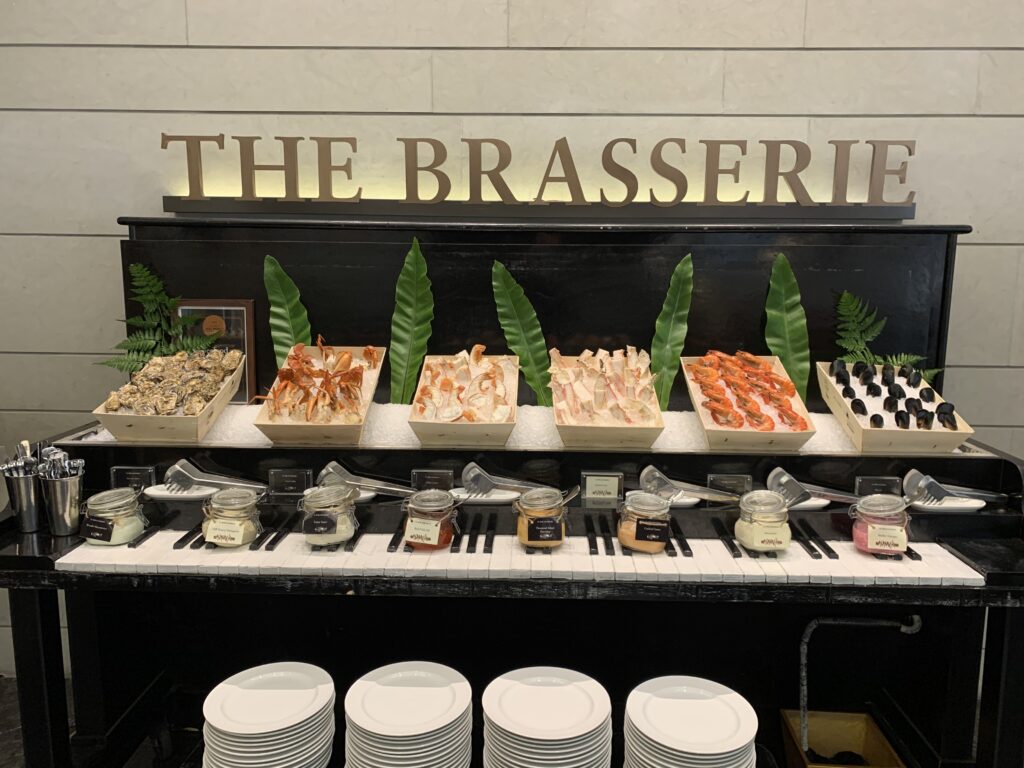 Superb Shellfish Buffet
Given that I'm a sucker for shellfish, I was very impressed by the St. Regis's selection. In fact, I don't think I've seen a more impressive selection anywhere else in the world. I've seen lobster at the Westin Beijing (but they ran out), and I've seen king crab at the JW Marriott Shanghai (15 years ago on the special Thanksgiving Buffet), but never both at the same time! You can see it in the picture above, but there were:
Multiple varieties of shucked-on-demand oysters including the French Fin-de-Claire
Crabs, which I assume were local to the region since I didn't recognize them
Lobster Tails!
Alaskan King Crab!
Whole Tiger Prawns
Mussels
I should note that there was also some caviar on the buffet; however, it's not top-grade beluga caviar (which you would never find on a buffet), but it was tasty enough.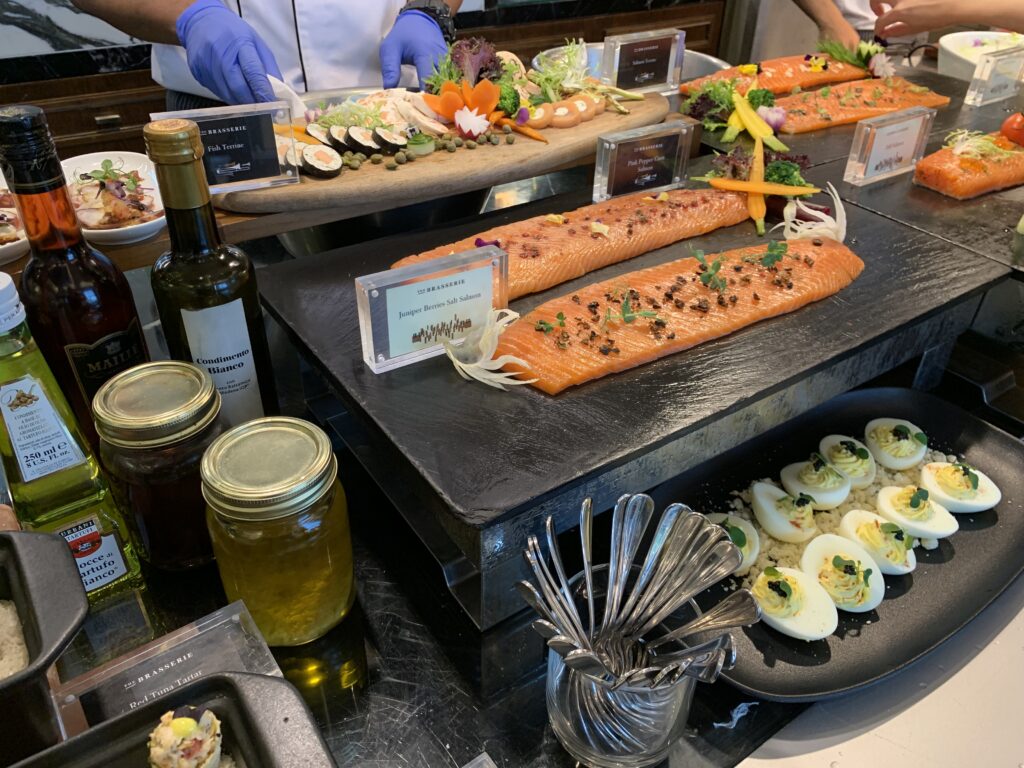 I also love smoked and/or cured salmon, and I have never seen such a wide selection as at the St. Regis. There were at least five varieties (see the picture above).
Of course there was a large variety of cooked, grill-type items including fish, steak, and lamb chops. They were pretty good for a buffet, as in not the star but nice to have.
And of course there's a carving station: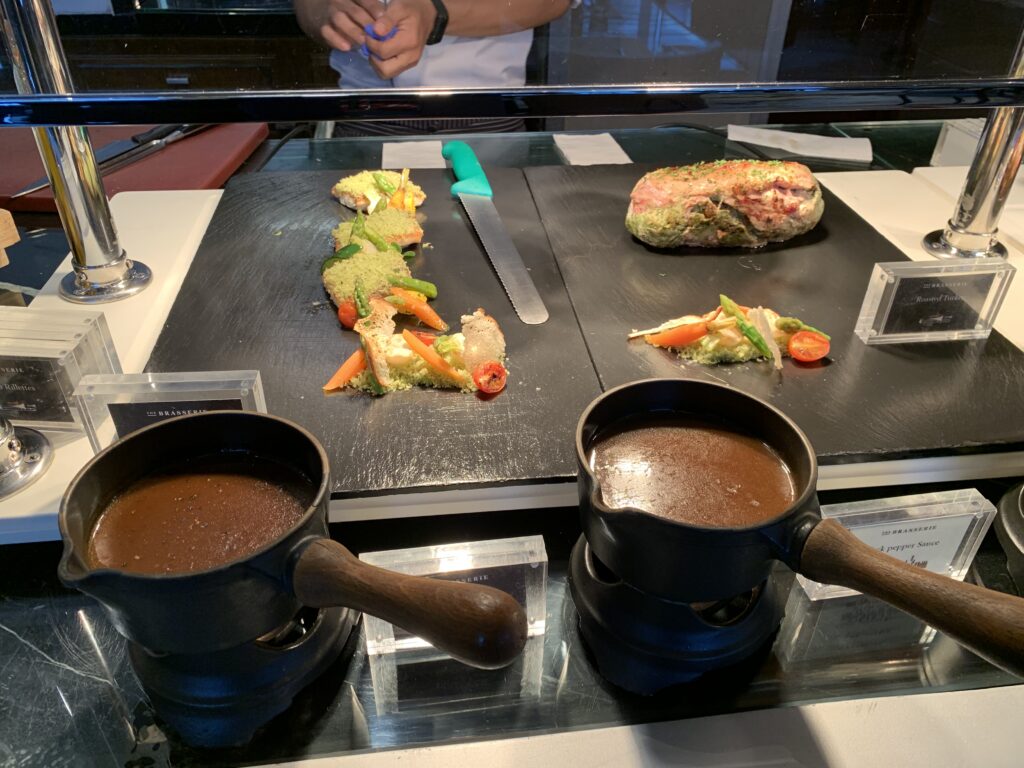 Exceptional Variety of Desserts
And a ton of desserts. I'm usually so full of shell fish that I don't get much from the dessert station, but there was a lot on offer including ice cream and fresh fruit (dragon fruit is my favorite)!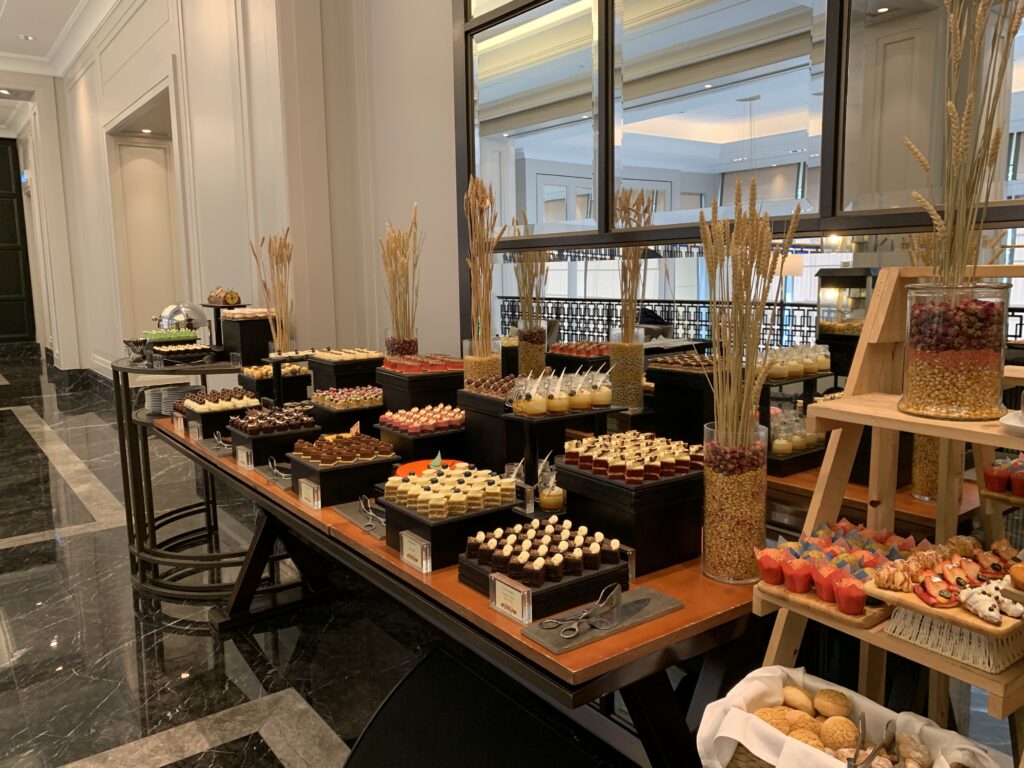 A-La-Carte Menu
In addition to the massive buffet of shellfish, hot foods, and desserts, there's also a cooked to order menu, which included:
Boeuf Bourguignon with Tagliatelle (superb)
Chicken a la Basquaise
Marseille-style Bouillabaisse (I was too stuffed to try but love Bouillabaisse)
Ratatouille (just like the movie!)
Eggs Benedict with sous vide eggs and Smoked Salmon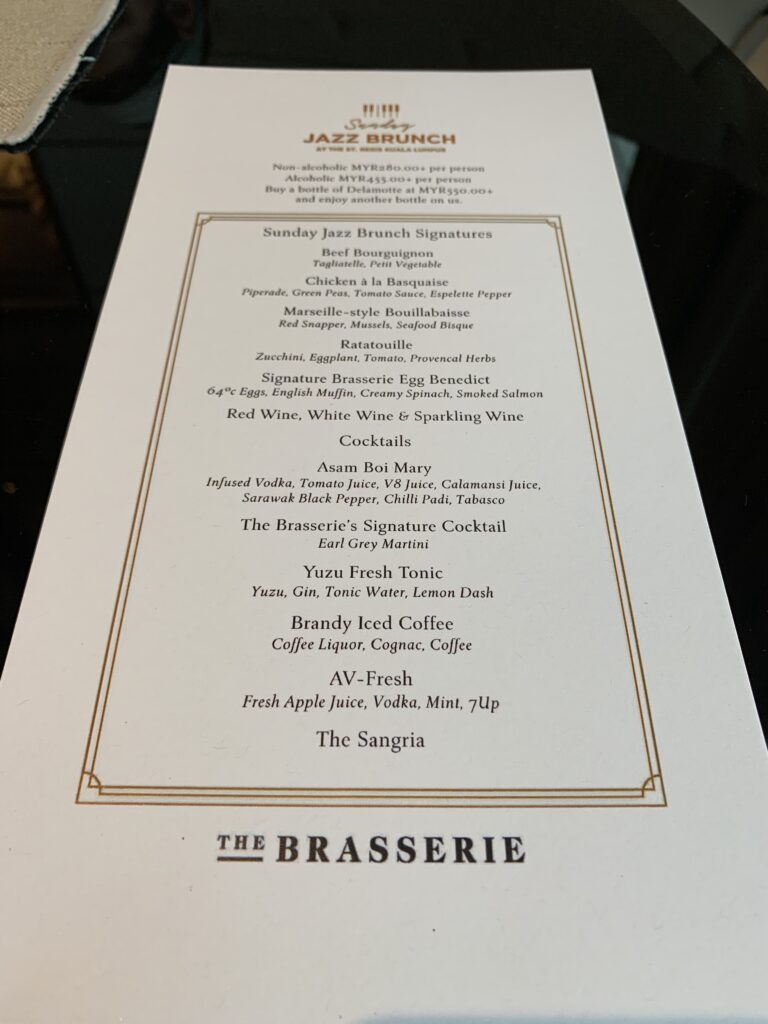 Alcohol and Pricing
If there were anything remotely disappointing about the buffet, it was the lack of a name brand, genuine champagne. I don't remember what the sparkling wine was, but it was not the Tattinger or Veuve Cliquot that is so common in high-end, brand-conscious Chinese 5-star hotels. However, I don't remember it being bad either.
I was particularly impressed by the wide range of cocktails including the Earl Gray Martini.
My friend and I indulged in the buffet the week before Chinese New Year 2020. The pricing was 280 MYR plus tax without alcohol and 455 MYR plus tax with alcohol. I like how there's an option to take the buffet with or without alcohol. The total in US dollars was about $120, which I think was quite reasonable considering all of the lobster, king crab, salmon, caviar, oysters, cocktails, and sparkling wine I consumed over 3 hours.
Overall, I'll let this Life Photo speak for itself.