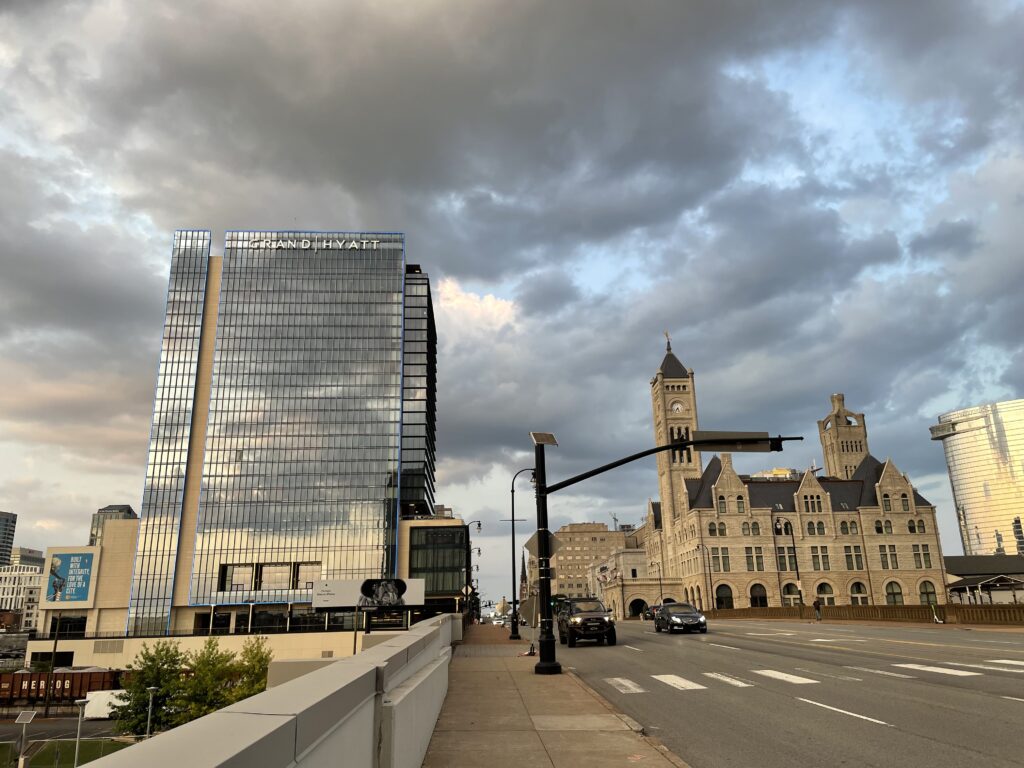 The brand new Grand Hyatt Hotel Nashville boasts a great location, beautiful rooms, and a superb executive lounge. As such, this Hyatt hotel in the center of Nashville, Tennessee is probably my favorite in the US at the moment.
I spent a total of three nights at the Grand Hyatt in August 2021 on a 3,000 mile road trip through the southeast. It's located in the center of Nashville just a couple of blocks off of I-40. The hotel occupies a brand new glass and steel tower right across the street from the historic Union Station (now an Autograph Collection Hotel). A similarly new looking Whole Foods is two blocks away.
Central Location
The Grand Hyatt is located directly on the famous Broadway Street and is a great location for walkers. All of downtown Nashville's highlights like the famous part of Broadway, the Music Walk of Fame, and the Convention Center are within a 15 minute walk. Music Row, Vanderbilt University, and the Parthenon at Centennial Park are also relatively close but the walk isn't that nice given you have to cross the interstate and walk past several auto dealerships.
I booked my two stays (2 nights going out and 1 night returning) with Hyatt points so took advantage of the included valet parking. Had the parking not been included, I probably would have forgone the $45 fee and parked in one of the big surface lots located directly adjacent to the hotel for a lower fee.
Big, Beautiful Suites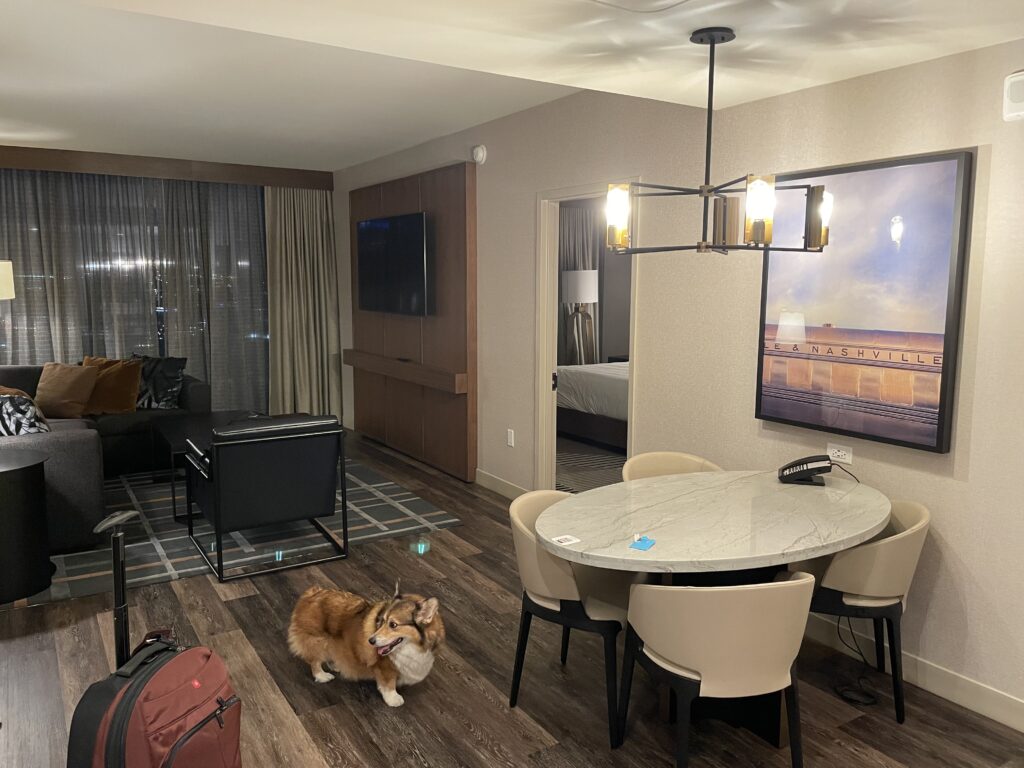 The Grand Hyatt Nashville is a massive ~600 room convention-style hotel. In fact, during my first visit it was the primary hotel for the Music City Grand Prix race. As such, it boasts a massive, multi-level high lobby with a long check-in desk, big bar area, and a more intimate "fire-side" lounge area. On the first night there was live music at the bar.
The huge scale of the hotel naturally has its pros and cons. The hotel is able to offer a lot of amenities like a stunning rooftop pool, multiple dining outlets including executive lounge, and nearly 60 suites. The large number of suites should mean that upgrade space will remain good for Hyatt Globalists.
On my first, two-night stay as a Hyatt Globalist, I was upgraded to a Broadway Corner Suite on the 18h floor. I was impressed by this proactive upgrade because 1) it was during the Grand Prix and 2) I didn't have to ask for it.
The suite was approximately 500-square feet and split between two, decent size rooms with a view directly over Broadway and the historic Union Station. The living room featured a full-size sectional sofa, which was great to sprawl out on and watch TV–I really appreciated the comfort of the sofa versus form before function couchettes at other hotels like the Thompson San Antonio I stayed at earlier in the year.
Fast Internet and Lots of Power Outlets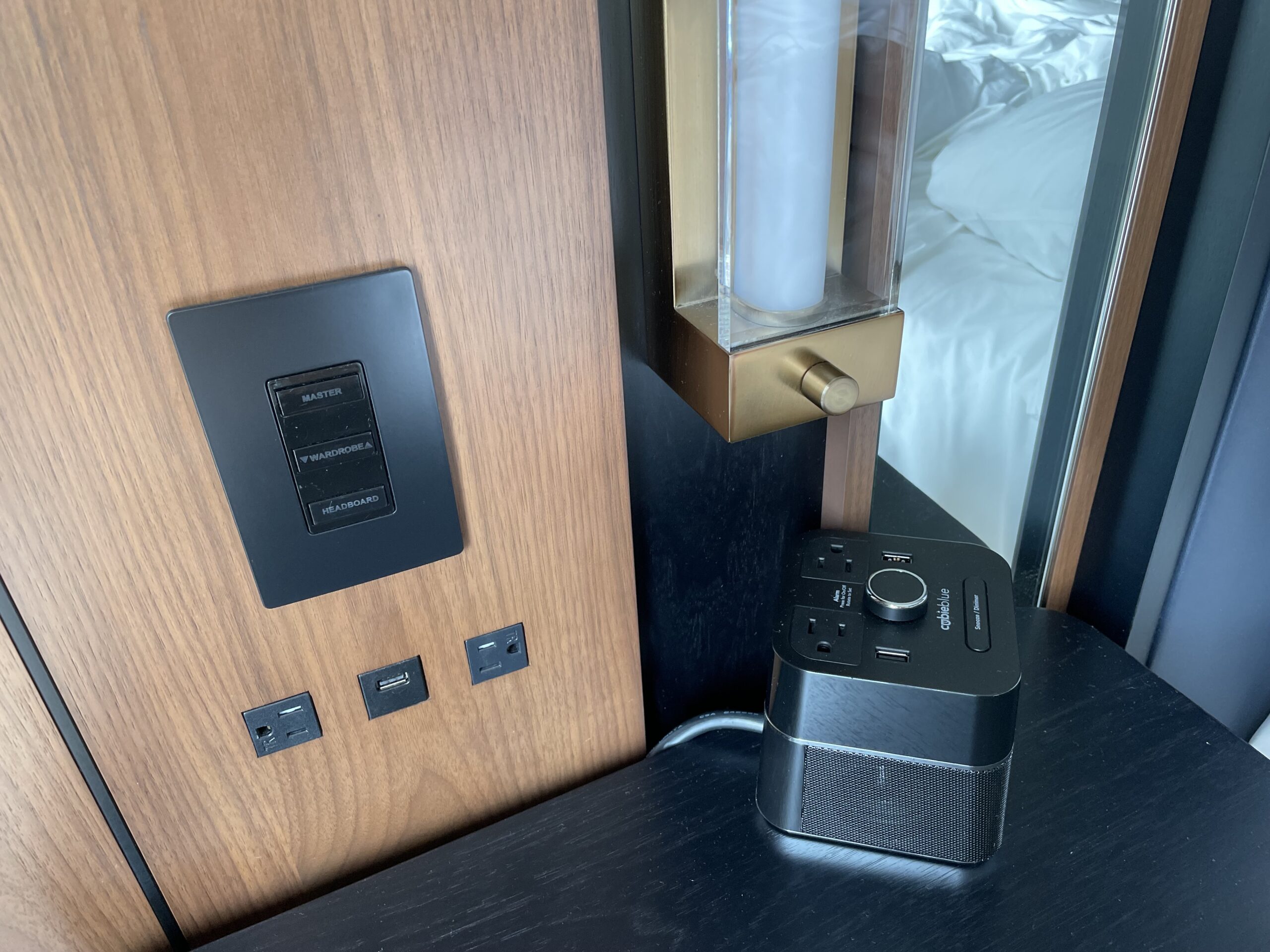 The suite featured all of the latest electronic amenities including two big flat screen TVs with Chromecast. I liked being able to easily log-in and cast Netflix from my iPad.
At over 100 mb/s the hotel wi-fi was the fastest that I've experienced. Unsurprisingly this new hotel room featured tons of power and USB outlets including 3 USB-A ports and 3 standard plugs on each side of the bed.
The bathroom was reasonably large and anchored by a dual-vanity with LED vanity. I liked how a motion sensor automatically activated a night-light. The walk-in shower had great water pressure and featured both a fixed and hand-held shower head. The toilet was a standard American toilet but did at least have a soft-close lid. I did miss that neither of my rooms offered a deep soaking tub. There were big windows that were easily covered with electric shades.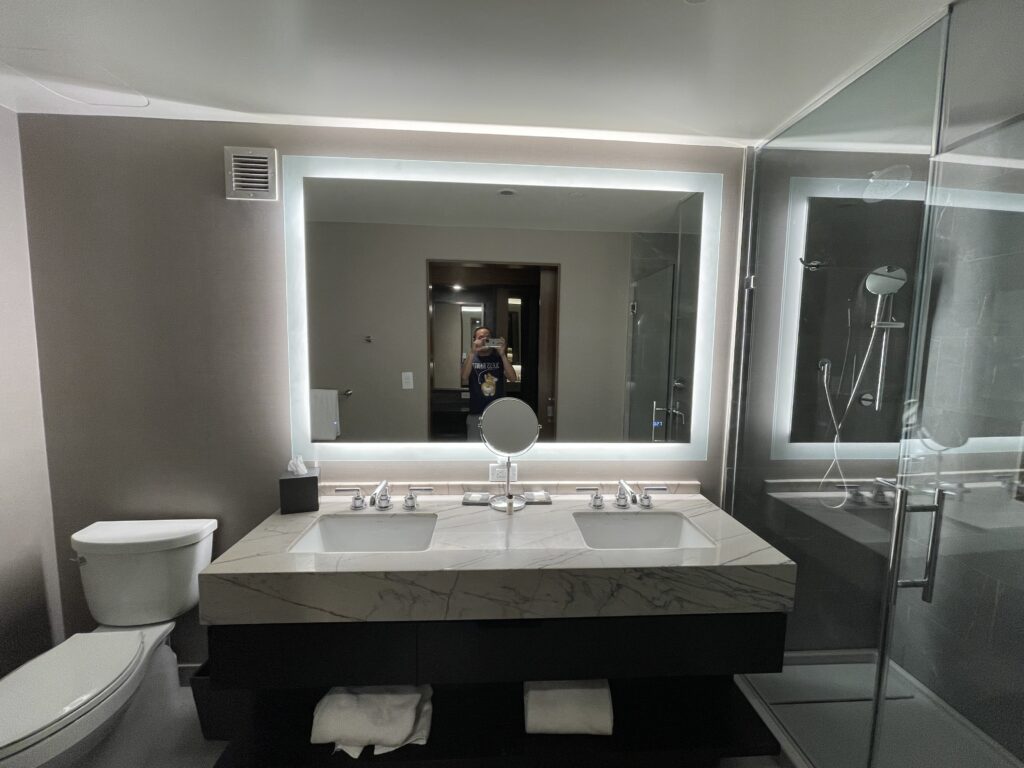 On my second stay I was eventually given a much bigger 700-square foot Executive King Suite on the 18th floor. I really liked the larger size of the Executive King as it provided a significantly larger living room with more seating and a beautiful, marble dining table with seating for 4. There was also a wet-bar with sink.
Both rooms I experienced were very quiet with regards to other rooms and the hallway; however, a lot of street noise comes in through the windows, and Nashville is unsurprisingly not a quiet town (especially when the Grand Prix is in town). I was able to drown out the cars by turning the bedroom's fan to always-on; each room of the 2-bedroom suite featured its own thermostat.
Stunning Executive Lounge (Grand Club Lounge)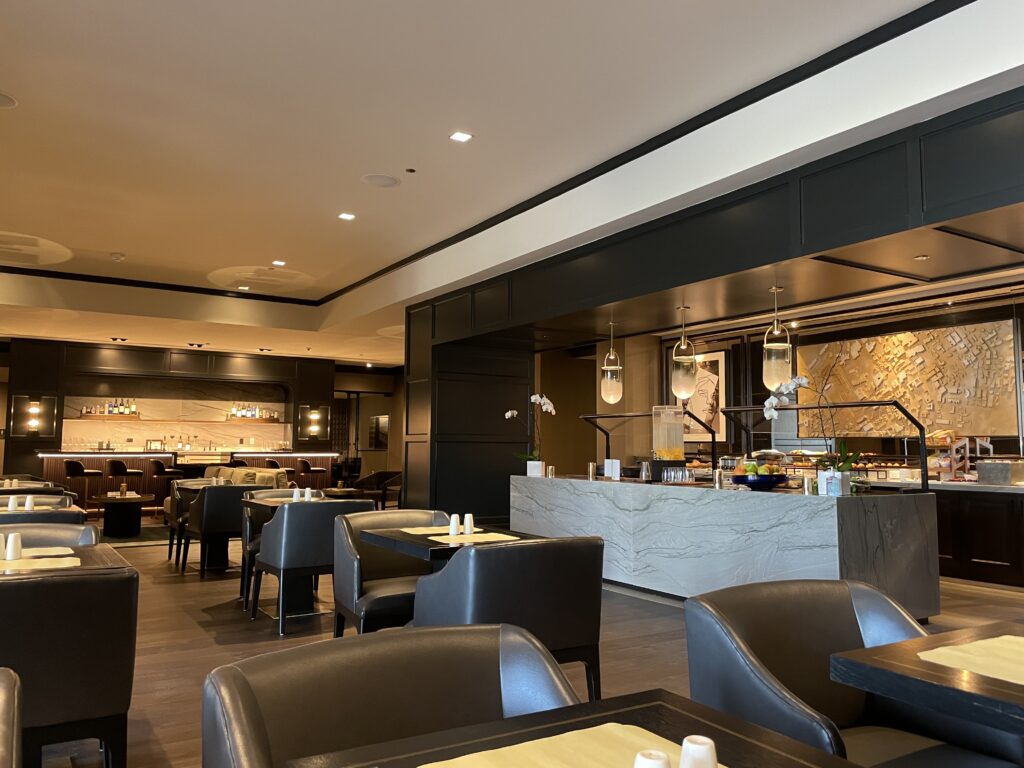 I was really impressed by the Grand Club Executive Lounge, which had apparently just opened the week I arrived. The lounge was available both to Hyatt Globalists and guests booked in the hotel's executive-level rooms and offered a buffet breakfast, all-day snacks, and an evening buffet with free wine and beer. It was definitely the most impressive executive lounge I've experienced in the United States and even rivals some Asian hotels like the Conrad Osaka.
The morning spread included both hot and cold dishes. There were three hot options like scrambled eggs, sausages, and mini-quiche and a range of continental options including smoked salmon, fresh-cut fruit, baked goods, cereals, and grains. There was a cappuccino machine too but it was out of order on both of my visits. One day I also saw wrapped breakfast sandwiches.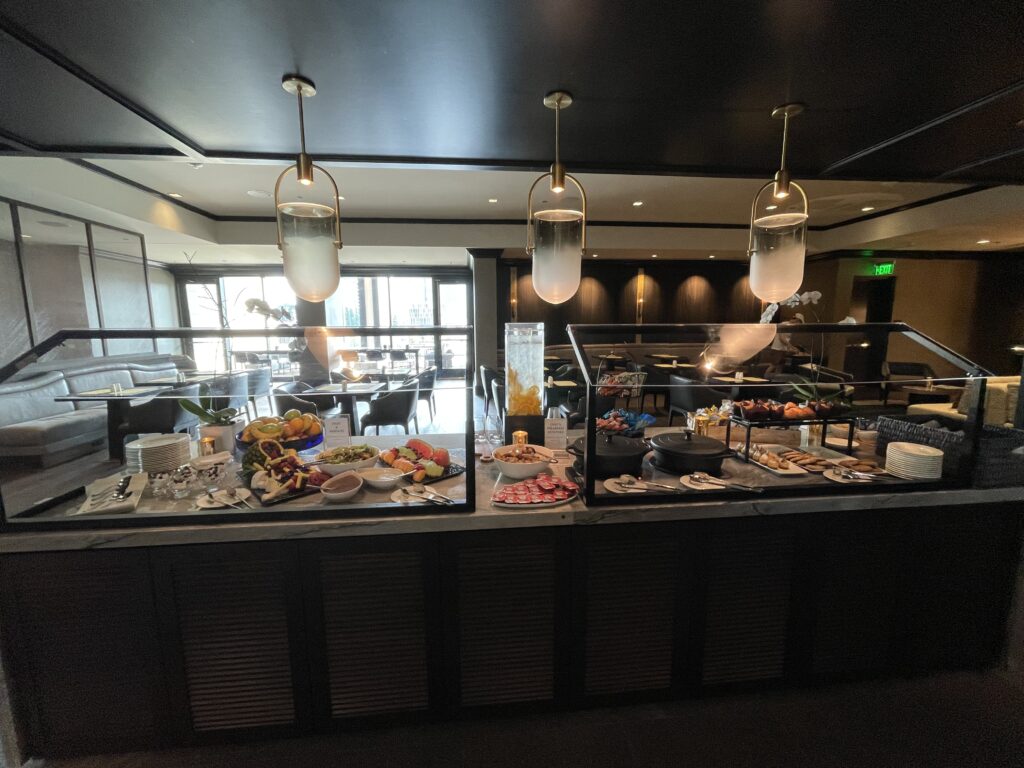 The evening spread was between 5 and 7pm and featured two hot options and a range of cold dishes that could easily serve as a light meal. The hot options included items like mini crab-cakes and bacon-wrapped shrimp. Cold options included fresh fruit, cheeses, salad, and a couple of dessert options like a deconstructed vanilla pudding. However the star of the evening spread for many people is likely to be the free wine and beer options of which there were at least five of each. The lounge attendant–Phil–poured the drinks, kept things tidy, and provided just generally superb service.
I also tried breakfast in the hotel's main restaurant Nashville Grange one morning. It offered a buffet as well as an extensive a-la-carte menu. The buffet was decent but offered relatively few choices for such a large hotel. However, as a Hyatt Globalist the breakfast was included and I ordered some items off the menu like biscuits and waffles to supplement the buffet.
Pet Friendly Hotel
The Grand Hyatt Nashville charged no pet fee for my corgi to stay in the room; however, the website says the fee is only waived through the end of 2021. With the exception of Thompson Hotels, most Hyatts charge high pet fees and are generally not pet-friendly in that regard. In planning this trip I was really envious of the multiple Aloft hotels (Marriott) I saw that didn't have pet fees; it would be nice if more Hyatts had lower or zero pet fees.
New Hotel Problems
The Grand Hyatt Nashville had only been open for about 10 months before I visited so I wasn't surprised by some of the new hotel problems. For example they were apparently suffering a shortage of hand and face towels, which they made up for by stocking more bath towels.
Some of the room hardware was broken or loose like the cabinet door, toilet handle, sink stopper, and shower handle. And on my second, return visit the front desk made no acknowledgement of my Globalist status and assigned me to one of the most basic rooms and mentioned nothing about included amenities like the executive lounge or breakfast offerings.
Also the Grand Hyatt Nashville may not be for everyone given how huge it is and how popular it will be with large conventions that you might not be attending or want to know even existed. However even though the hotel seemed packed during my first stay, the executive lounge still proved to be an amazing, relatively quiet oasis.
Overall I really enjoyed my stay at the Grand Hyatt Nashville and will already returned!