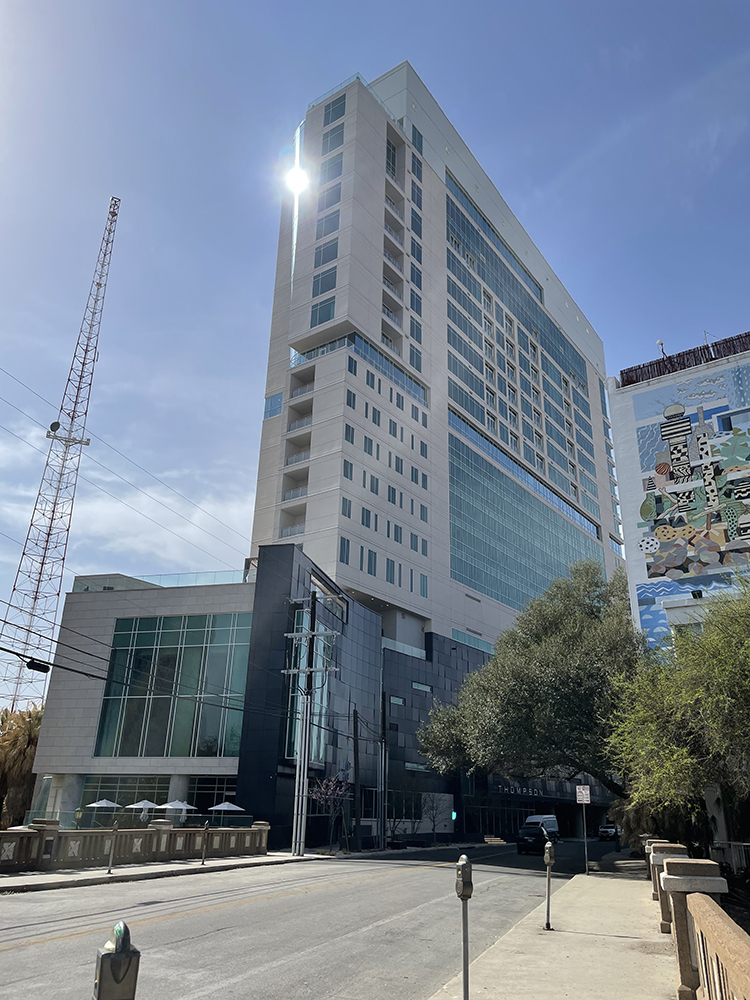 The brand new Thompson San Antonio by Hyatt is a boutique, luxury hotel well worth visiting. The 162 rooms are well-appointed, the North Riverwalk location just right, and the Landrace restaurant up to the standards befitting a hotel of this class. With absolutely no pet fees and included amenities like a dog bed and bowl, the Thompson is also the most pet friendly hotel I've ever stayed at.
The Patrick Pup family enjoyed their 4-night stay and look forward to visiting again in the near future.
Pros
Beautifully designed rooms
Excellent dining at Landrace
Super Dog Friendly
Great location on North Riverwalk
Beautiful Pool Deck
Friendly and Responsive Staff
Considerations
North Riverwalk location may be too far for some
Thompson "vibe" may be too hip for some
May be too dog friendly for some
Skyline Suite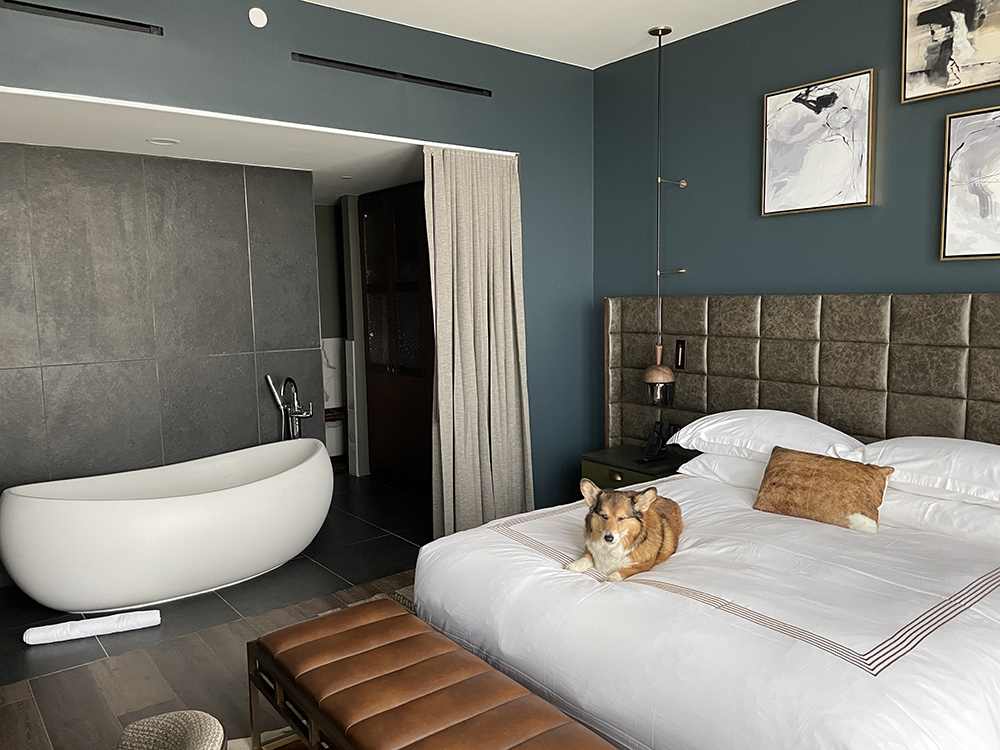 The Thompson proactively upgraded us to a Skyline Suite at check-in, which is probably the result of our top tier Hyatt Globalist status. That the Thompson proactively upgraded us was a pleasant surprise given that Hilton hotels (my other favorite hotel group) often have to be prodded to do so for Honors Diamond members.
The Skyline Suites are all located on the "penthouse" level, which is actually just the 11th floor of a 20-story, mixed-use building. The hotel occupies the building's first 11 floors while residential condominiums are on the upper levels, and the Moon's Daughter Restaurant enjoys the coveted rooftop, 20th floor location.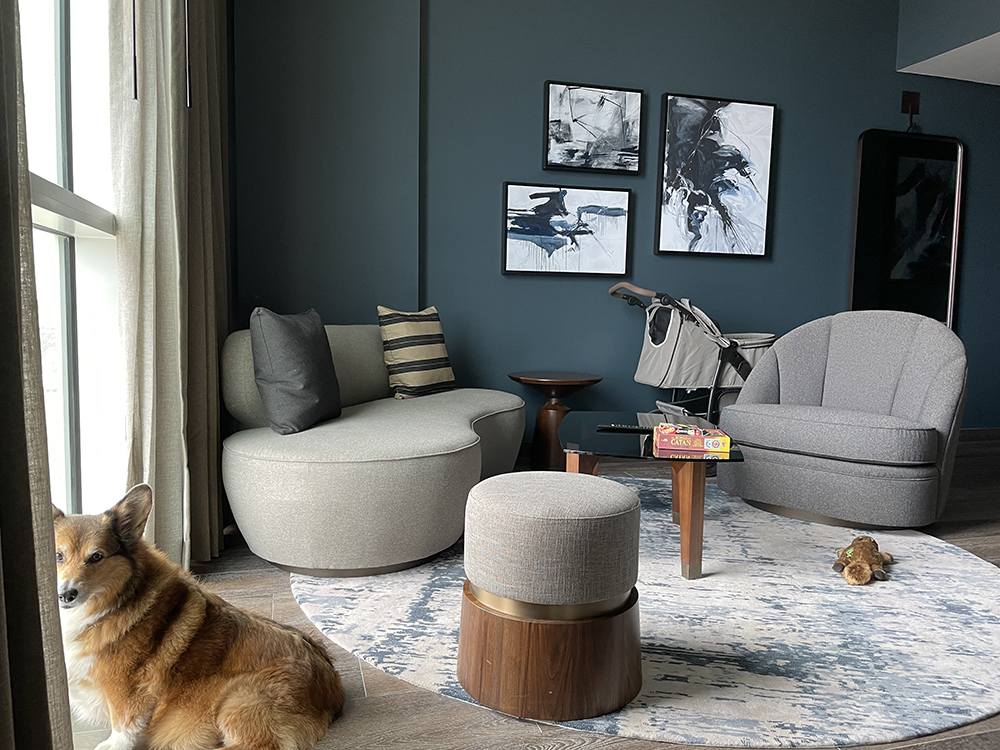 The Thompson website bills the Skyline suite as 900 square feet, but I don't think our particular example was more than 750 square feet or roughly the size of an average 1-bedroom apartment. My phone and feet pegged it at roughly 25′ x 30′. This admittedly still double-the-average-hotel-room space is divided into 3 mostly equal size spaces of the living room, bedroom, and bathroom.
The living room felt a little small, and maybe the high-mounted 65″ TV a little too big. You have to push the furniture all the way against the wall to feel comfortable looking up at the TV. The chair + ottoman combination is comfortable but the "couchette" not as much. I pushed the couchette against the wall so that I could prop myself up with some pillows while watching the TV.
While the LG Nano TV is not top of class, it does feature Chromecast, which Hyatt/ Thompson has done an excellent job of implementing. I had no trouble casting Netflix to it after quickly following the on-screen instructions.
Beds are such personal preference, but I thought it was comfortable and mostly liked the Sferra sheets. I especially liked that the duvet cover was an actual duvet cover like you'd have at home, meaning that it wouldn't easily slide off. However, I thought that the down duvet was too heavy; I had to turn the thermostat down to 68 to keep from sweating. The faux leather headboard, cow hide rug, and cow hide pillow are a nod to the Lonestar State.
Our room was pretty quiet and was not fouled up by a noise-leaking connecting room door (I added this to my Hyatt profile after my last two Hyatt rooms had loud, connecting rooms). The windows are dual pane; however, some noise does still permeate from the street 11 floors below.
The manually operated black-out shades were fairly effective (light does leak from the top), but fully automatic blinds like the Conrad DC would've been a nice touch.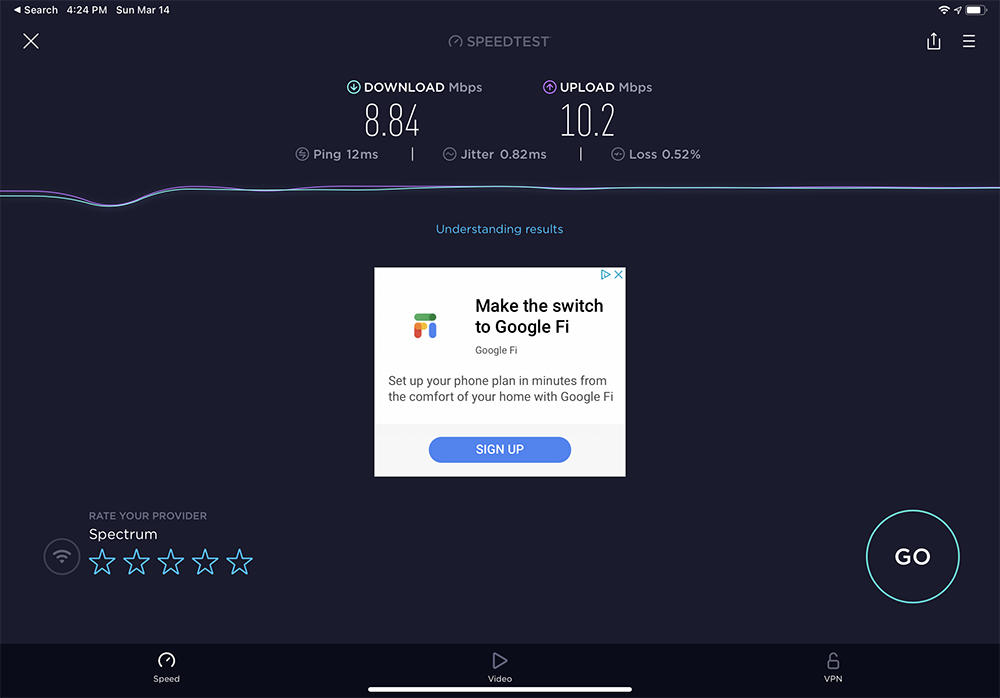 Lots of USB Plugs; Slow Wi-Fi
I counted at least 10 USB-A (No Type C) plugs for charging in the bedroom–two built into the headboard on each side of the bed, two built into the base of the cordless phone by the bed, two more built into the base of the cordless phone on the desk, and two more built into the desk itself.
Using Speedtest on my laptop and phone, I clocked the Wi-Fi at a very non-speedy 9 megabits up and down. I tested on the day I arrived and four days later when I left; my connection to the router was full bars. I didn't find an accessible gigabit ethernet port.
However I did like how no log-in was required to access the wifi, but this usability feature also limits the hotel's ability to offer faster, "Premium Internet" as part of its World of Hyatt benefits.
Huge Bathroom and Soaking Tub
The bathroom in this suite is just huge, like maybe too huge. The most noticeable piece is a massive, 2+ person, acrylic soaking tub, which is basically in the bedroom. More bashful guests can separate the bathroom from the bedroom with a curtain. The oversized tub must be at least 72″ long and hold more than 80 gallons of water; it took upwards of 25 minutes to fill to the overflow outlet.
I honestly did not find the tub that enjoyable to use. I'm only 5'8″ on a good day, which meant that I could really only sit with my legs fully extended if I wanted to stay upright. The curvature of the tub wasn't very ergonomic given that human backs are mostly flat. And the Thompson didn't provide any bath salts or other amenities. The bath would've been much more comfortable with a bath pillow, but to be fair, I've never seen a bath pillow at a hotel.
The water temperature was hit or miss. Sometimes turning the handle all the way to hot would put out properly steamy water; other times it merely felt lukewarm. The massive size of the shower space only amplified the temperature issue as it took more time for steam to warm up the voluminous area. Hopefully this is a new hotel kink that will get worked out.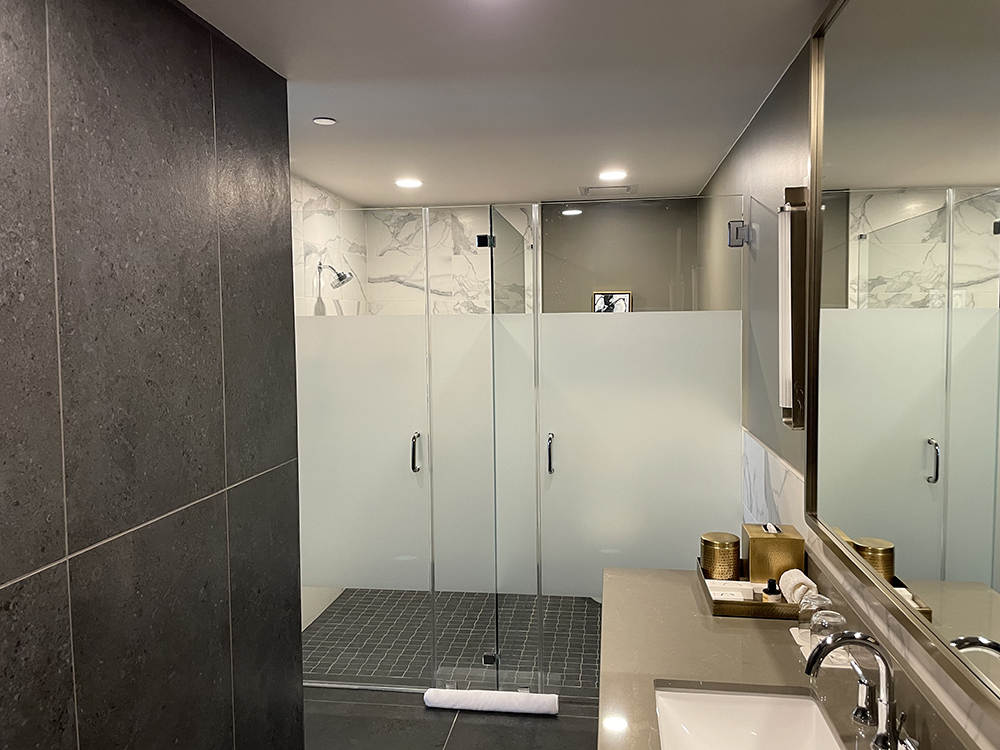 The bathroom is decorated with marble-look and slate-look tiles (real marble is a pain to maintain as it will inevitably stain). The single vanity (odd for a suite this size) is covered in quartz and finished with Delta faucets. I liked the Luigi Bormioli non-leaded, Italian, crystal glasses, but I could see how some people might find the basic makeup mirror to be out of place in an otherwise five star setup. My dad would complain about the lack of hooks or bars on which to hang towels.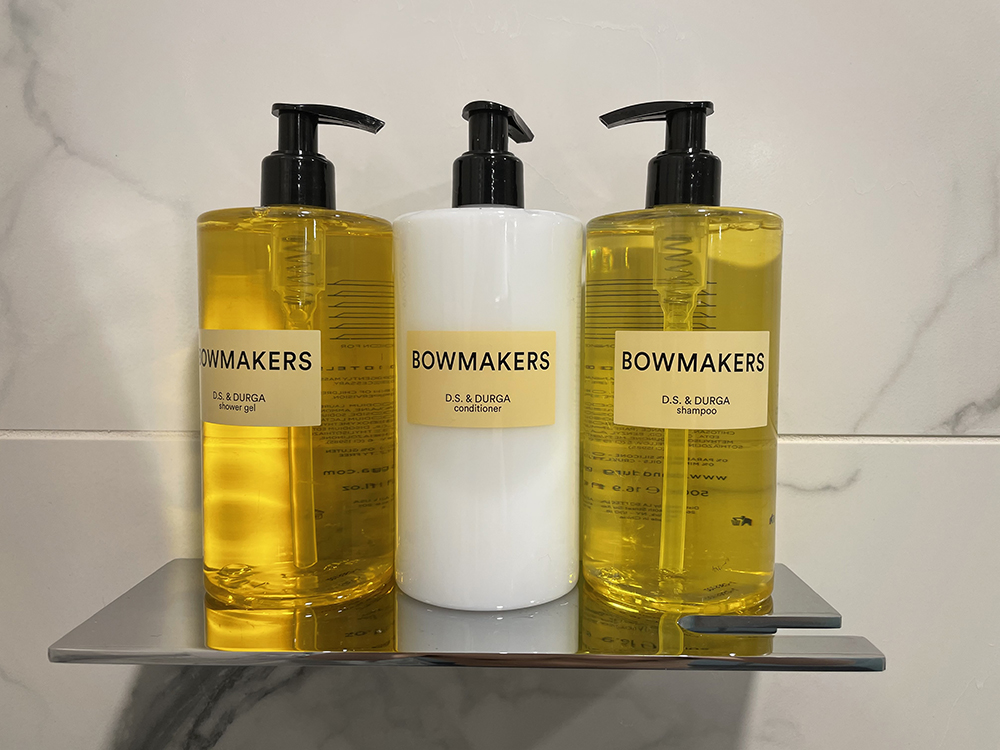 The soap, shampoo, and conditioner are by D.S. and Durga, which is a Brooklyn-based company. I liked the bar of hand soap provided, which was luxuriously large if not a bit wasteful for shorter stays. Conversely, the shampoo, conditioner, and body wash are large pump bottles. These refillable pumps significantly reduce hotel waste, but this particular implementation lacked any type of anti-tampering device.
The single-flush toilet is relatively basic but does have a soft close seat and lid. I'd love it if luxury American hotels would start installing bidet seats like in Asia. Instead, you'll have to make do with scratchy hotel 2-ply.
The glass shower and toilet doors open outward, which means you'll have to place the bath mat to the side. A frosted laminate provides some privacy on the middle portion of the otherwise clear glass (sand blasted would've been cleaner looking and more durable).
Full Liquor Bar, Nespresso, and Sustainable Water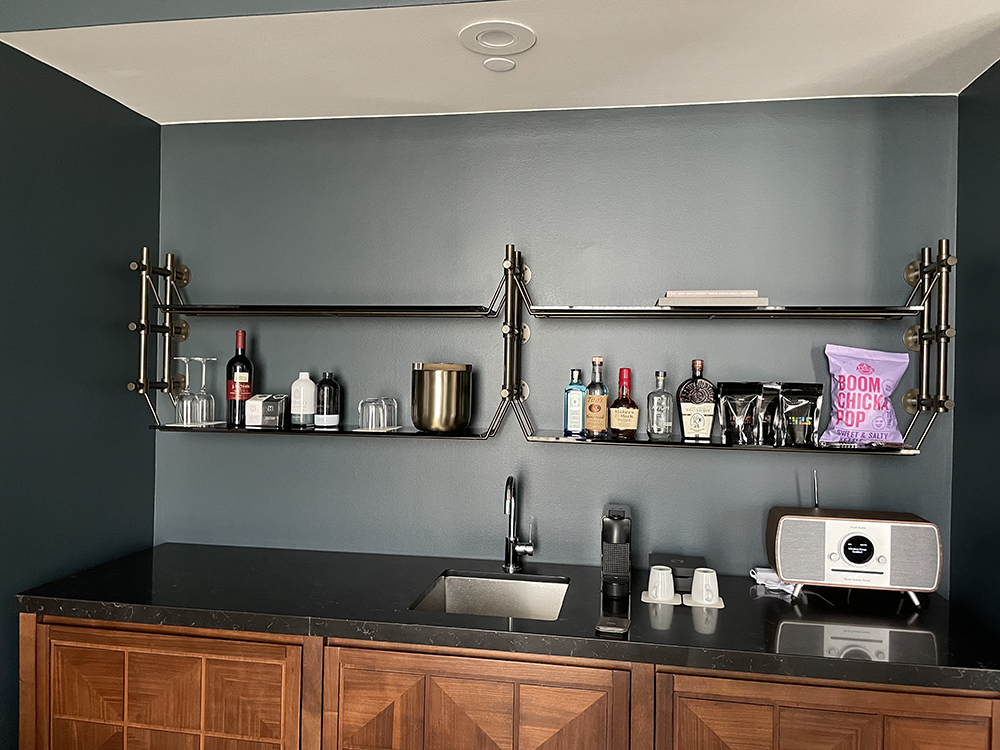 This is not a hotel for recovering alcoholics. The wet bar is stocked with 5 near full-size bottles of liquor including Tito's and Maker's Mark.
In the likely event the full size bottles are not reasonable for the room occupants to consume by themselves, there are 8 smaller bottles in the mini-fridge. There are also 12 bottles of beer and 3 bottles of wine including a bottle of Veuve Clicquot Brut.
I have to imagine that the inclusion of so much alcohol is more about placing the Thompson brand in a particular lifestyle category and less about getting guests crunk. At least the prices seemed reasonable.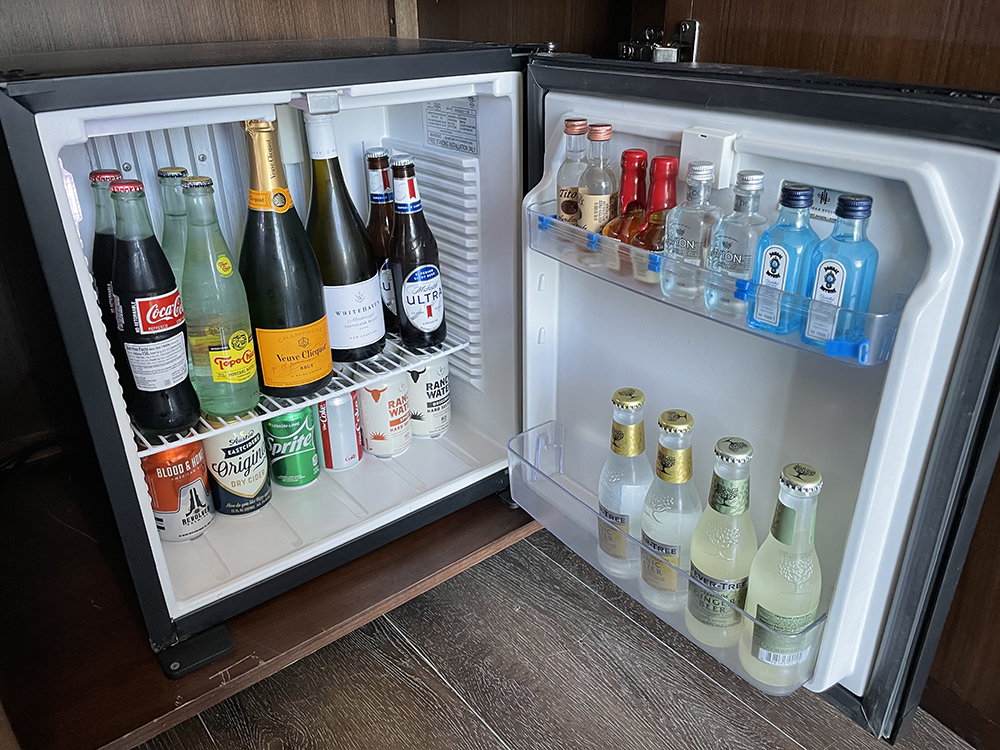 After your night of binge drinking, there is a Nespresso Essenza Mini equipped with 4 pods for your morning caffeine needs; however, no to-go cups are offered, which is an odd omission.
You could fill the Nespresso with water from the Delta Trinsic bar faucet, or walk outside to the touchless water dispenser in the hallway. This nifty machine by Vero serves up filtered water three ways–room temp, chilled, and sparkling! (if that's your thing). The hotel provided us two aluminum bottles at check-in with which to use the machine.
Riverwalk North Location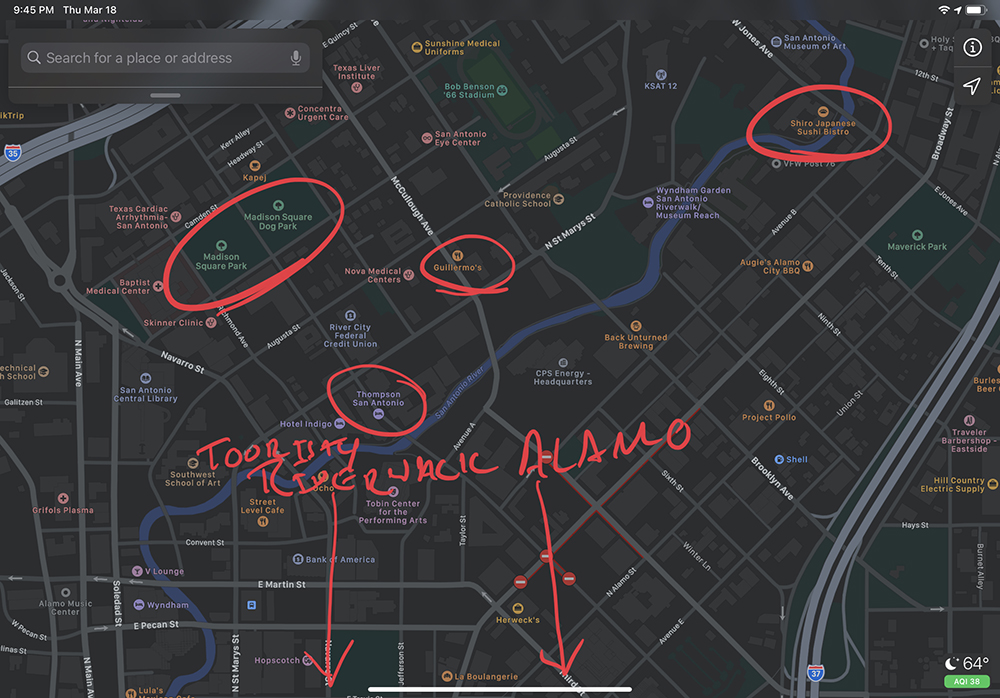 The Thompson is located along North Riverwalk, which means it's about 7 blocks and a fifteen minute walk to the main, touristy Riverwalk and the famous Alamo. I actually preferred this slightly more remote location as I personally find the Riverwalk to be a little too similar to a crowded cruise port–it's really cool as a kid or the first time you go but less so on repeat visits, especially during Covid.
Also, this section of the Riverwalk is just far enough from downtown that you can spot actual locals running up and down it. You can walk a few blocks north of the hotel to find fancy, new apartment buildings and the upscale neighborhood restaurants that cater to them.
For arts lovers visiting in a post-pandemic world, the Tobin Center for the Performing Arts is directly across from the Thompson, and the San Antonio Museum of Art is a quick 15 minute walk north along the Riverwalk.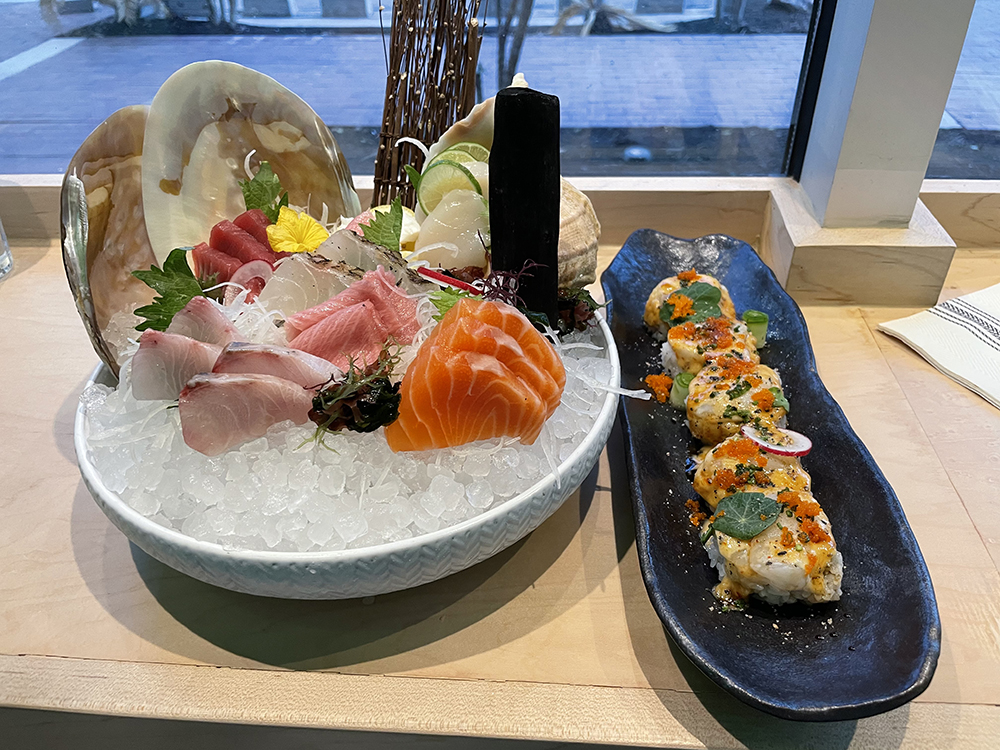 Neighborhood Restaurants
We preferred the more neighborhood-y restaurants that were further away from the touristy, downtown Riverwalk. In particular:
Guillermo's is a very casual Italian restaurant with an expansive, dog-friendly patio just a couple blocks north of the Thompson. They have a great happy hour.
Shiro's Japanese Sushi Bistro is a very hip, upscale sushi restaurant about 8 blocks north of the Thompson across from the San Antonio Museum of Art. Reserve a table online or send them an e-mail as it's a very popular restaurant with limited seating.
Landrace Restaurant
We ate breakfast in the hotel's signature restaurant all four mornings and one time for dinner and generally found it quite good.
I particularly liked the yoghurt dish, which was chock full of berries and oatmeal. I also loved the Wagyu steak and eggs; the steak was sous-vide tender and exceptionally seasoned. The grits were on point, and Patrick loved–loved–the sausage; he's still barking about it. The avocado toast with an optional egg is substantial. The blueberry muffins are brought in from a vendor, but were tasty nonetheless. I was surprised that the tea selection was rather limited.
At dinner, the trout was beautifully plated and the grilled grapes (grapes!) and caper berries added nuance. I was less impressed by the stuffed crabs and opera cake. There was very little in the way of recognizable seafood in the stuffed crabs, and the flavor of the stuffing was a bit basic. The opera cake was simply presented, and it was hard to get into since it was topped in a quarter-inch thick piece of hard chocolate.
I also enjoyed the smoky flavor of my bourbon-based cocktail and always love big ice cubes.
Bread is a $3 option; click here for the menu.
The rooftop bar Moon's Daughter was not yet open during our visit.
Pool and Valet Parking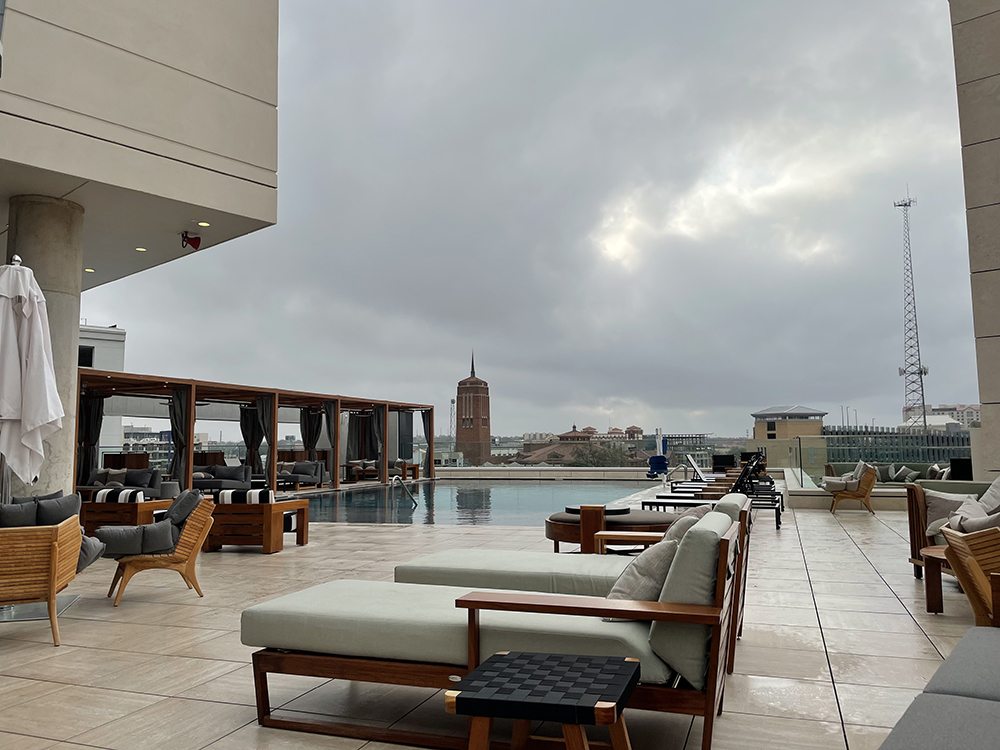 The fourth floor pool deck is lovely. There is a bar and lots of comfortable outdoor seating. There are also covered day beds, which I imagine will sell for a pretty penny as the hotel becomes busier.
Our visit was during spring break, and there were a lot of children enjoying the pool.
Valet parking is relatively expensive at $45, which seems in line with hotels in the area. There is no self-parking option; however, there is a non-affiliated surface lot directly across the hotel that only charges $15 a day.
No Pet Fee Dog Friendly Hotel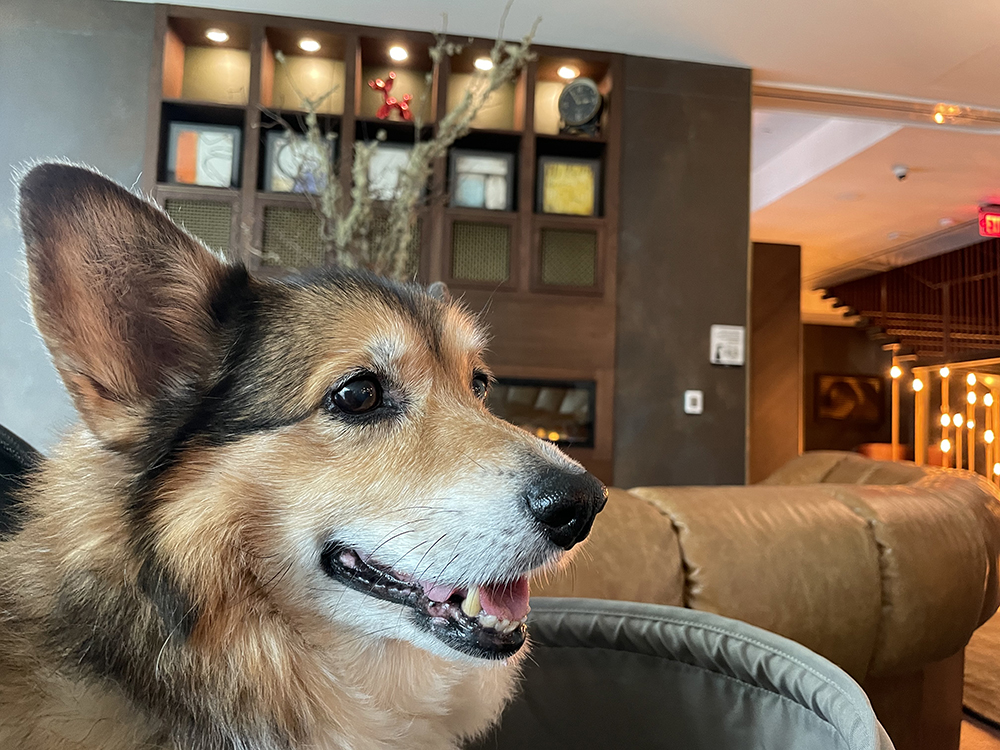 There's no pet fee to bring your furry friends to the Thompson San Antonio! Really, no charge! Most hotels–even La Quinta nowadays–will charge upwards of $50 a day to have dogs in the room but not Thompson hotels. They also provided Patrick a dog bed and water bowl. Nevertheless, Patrick left a tip for the housekeeping staff as he was shedding (he sheds March through February).
Patrick the Corgi Pup also liked how he could easily stare out of the floor to ceiling windows.
The room's mostly hard floors (ceramic and wood look vinyl) probably enable the Thompson to be so dog friendly. However if something is wrong with you and you hate dogs–or you're allergic (more forgivable)–then just prepare yourself to see lots of dogs and ask for a dog-free room.
A sizable dog park and human park are just two blocks west of the hotel; however, there is a noticeable homeless population in the human side of the park. Of course the Riverwalk is also a great place to walk your furball.
Hyatt Globalist Benefits and World of Hyatt Promotions
I felt like our Hyatt Globalist status was well recognized:
We were proactively upgraded to a Skyline suite.
Our ~$60 daily breakfast charges, including tip and room service, were comped.
We were offered two bottles of water at check-in.
The front desk agent thanked us for our loyalty.
Great Deal for Now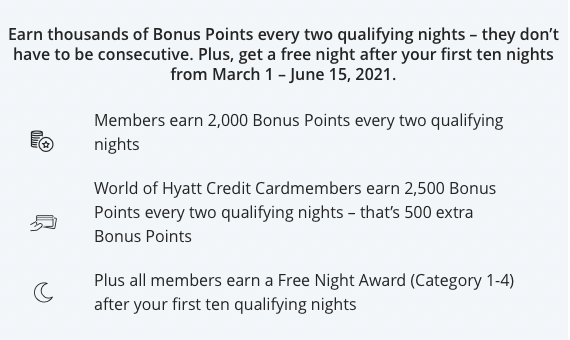 Like most hotels featured on this site, I got a phenomenal deal on this mostly staycation at the Thompson San Antonio. I booked the "Bed 'N Biz" rate, which included free valet parking and breakfast for 1 person. The parking is ordinarily $45 a day. And while I didn't need the free breakfast on account of my Globalist status, it was the lowest rate offered.
In addition to the normal earning structure available to a Globalist member with a World of Hyatt Chase Visa card, I also took advantage of the Bonus Journeys promotion and New Hotel bonus. For the calculation below, I value World of Hyatt points at about 2 cents each.
I paid $921 for four nights including taxes and enjoyed about $60 worth of included breakfast each day ($240 across 4 nights) and more than 15,000 World of Hyatt points back ($300). So this little jaunt to San Antonio in a Skyline Suite with valet parking cost me about $400 or $100 a night when food and points are subtracted out.
However, the Thompson San Antonio aspires to charge relatively high rates and as such is a Category 5 property, which means it would cost you 20,000 points to book a basic room. I would not use points unless the rate was at least $350, which would put your cash cost with parking at nearly $400.
$400 a night is rarified territory for urban luxury hotels in the United States.